Manny Pacquiao 'Not Afraid To Die' Of Coronavirus, Continues To Help Poor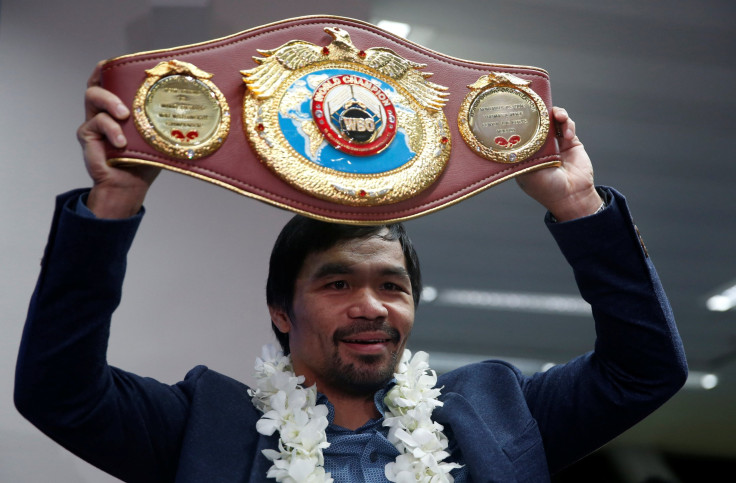 Manny Pacquiao says he is "not afraid to die" of COVID-19 as he continues to help poor Filipinos battle poverty amid the growing coronavirus crisis.
The world boxing champion who is also an elected senator in the Philippines has been in the frontlines of the fight against poverty in the country. With the growing pandemic that is COVID-19, Pacquiao believes now is not the time to lower his guard and instead has to work double time to serve his countrymen badly hit by the crisis.
"If you are a leader, you have to be a frontliner," the former eight-division champion told Manila Bulletin.
"You are a leader, so you have to lead and let people see that you are with them … You shouldn't hide because you're afraid to die," he added, speaking in Filipino.
Since the COVID-19 swept his country, Pacquiao has donated five buses to the government to ferry health workers to work during Metro Manila's enhanced community quarantine and transportation lockdown.
He has also partnered with Alibaba's Jack Ma to donate 50,000 test kits "to combat COVID-19 in the Philippines," his Instagram post read.
Currently, the Philippines has 707 confirmed COVID-19 cases and 45 deaths, Worldometer reports as of March 26, 9:00 GMT. The number has been consistently growing despite the country's struggles to tests the public because of limited resources.
Globally, 473,266 have been confirmed positive of the coronavirus, with deaths exceeding 21,000.
As the numbers pile up, Pacquiao focuses on helping the poor. Especially now, with the situation the world is in.
Growing in the slums of General Santos, the 41-year-old politician knows what it feels like to be poor. He says because of the pandemic, he is worried those living on the streets might be forced to steal or loot.
"That would be chaos. That's what I'm afraid of," he explained.
With work as senator, his boxing career would have to take a back seat for now.
MEET IBT NEWS FROM BELOW CHANNELS