Kate Middleton played key role in palace response to Prince Harry, Meghan Markle's Oprah interview
Royal author Valentine Low wrote in his book that the Princess of Wales advocated the use of the phrase "some recollections may vary."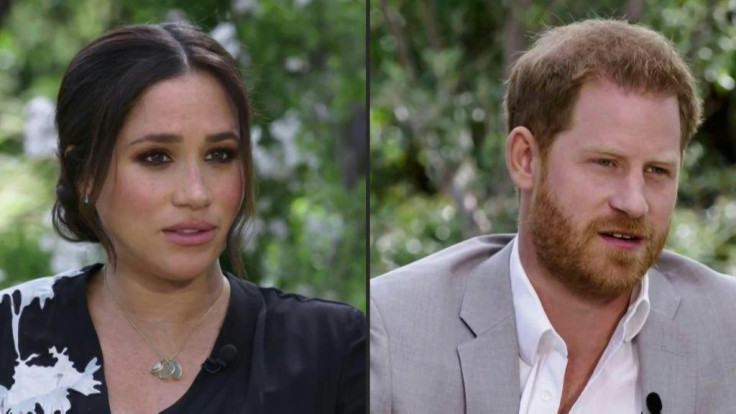 A new book claims Kate Middleton contributed to Buckingham Palace's response to Prince Harry and Meghan Markle's Oprah Winfrey interview in March 2021. It is said she wanted it "toughened up."
In their explosive first interview in the U.S.A., since they stepped back from their royal duties in 2020, the couple shared a series of serious allegations against the institution. They talked about a senior royal family member who raised concerns about their son Prince Archie's complexion. They said there were "concerns and conversations about how dark" his "skin might be when he's born."
The Duchess of Sussex also alleged the Firm turned its back on her when she asked for help for her mental health problems, at a time when she was having suicidal thoughts and was told it would not look good on the institution.
In response, the royal family through Buckingham Palace released a 61-word statement. In it, they admitted that they were "saddened to learn the full extent of how challenging the last few years have been for Harry and Meghan."
"The issues raised, particularly that of race, are concerning. While some recollections may vary, they are taken very seriously and will be addressed by the family privately. Harry, Meghan, and Archie will always be much-loved family members."
Now in the new edition of his book "Courtiers: The Hidden Power Behind the Crown," royal author Valentine Low cited an unnamed source who claimed that Kate Middleton advocated the inclusion of the phrase "some recollections may vary." But the palace initially had a "much milder version" of the phrase, according to an excerpt shared by The Times.
"The debate was, do you rise entirely above it and offer the olive branch of [Harry and Meghan being] 'much-loved members of the family'? Or is there some moment when you have to intervene and offer a view?" the source told Low adding that Kate Middleton and Prince William wanted it "toughened up."
The insider shared with the author, "They were both of one mind that we needed something that said that the institution did not accept a lot of what had been said."
Meanwhile, another source told Low that the Princess of Wales insisted the phrase "some recollections may vary" remain in the palace's response adding that she "clearly made the point, 'History will judge this statement and unless this phrase or a phrase like it is included, everything that they have said will be taken as true.'"
"She does not get as much credit as she should, because she is so subtle about it. She is playing the long game. She has always got her eye on, 'This is my life and my historic path and I am going to be Queen one day,'" the insider claimed.
Low's book also cited multiple sources who claimed that Prince William's private secretary Jean-Christophe Gray was responsible for the phrase. But there were others who also credited it to Sir Clive Alderton. The book likewise mentioned that the late Queen Elizabeth II waited to watch Prince Harry and Meghan Markle's Oprah interview on ITV the next night before she released a statement. Buckingham Palace or representatives for Kate Middleton and Prince William have yet to comment on Low's revelations.
Winfrey later confirmed during an interview on CBS' "This Morning" that neither Queen Elizabeth II nor Prince Philip made a comment about Prince Archie's skin colour. To this day, Prince Harry and Meghan Markle have remained tight-lipped on the senior royal's identity. Winfrey said the duke refused to divulge the person's identity even off camera. However, there are claims that it was Queen Camilla who wondered out loud about Prince Archie's complexion while having breakfast with King Charles III and that palace aides overheard their conversation.
© Copyright 2023 IBTimes UK. All rights reserved.
MEET IBT NEWS FROM BELOW CHANNELS