Jarryd Hayne News: San Francisco 49er decides to leave NFL for Olympics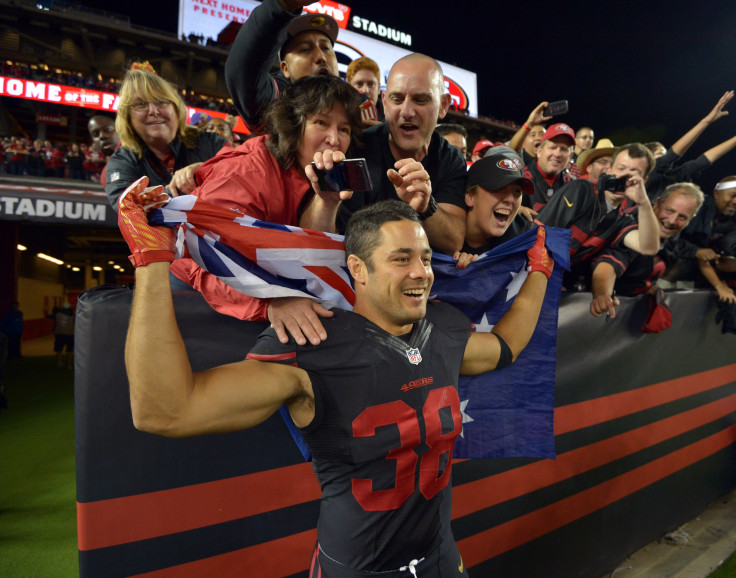 Former rugby league star Jarryd Hayne announced his decision to leave his career in the NFL to aim for the Olympic Games.
According to the Sun, the Fiji Rugby Sevens called and offered him a chance to represent and join the team in Rio.
"I simply could not pass that chance up. The Olympics has been something I have admired since I was a little boy and it is an opportunity I feel very similar to me joining the NFL," Hayne said.
His career as part of the San Francisco 49ers brought him a record of eight games, 17 carries for 52 yards, six catches for 27 yards, and eight punts for 76 yards. Hayne received overwhelming support and understanding from the 49ers organization for his decision.
"The past 12 months with the San Francisco 49ers have been absolutely incredible," Hayne said according to Newsday. "I could not have predicted how far I have come as an NFL player. To not only be able to play in a game, but also say that I started a game in the NFL is something that I will remember for a lifetime."
Colin Scotts, who is a former Arizona Cardinals defensive and one of the people who believed in Hayne's dream in joining the NFL, was disappointed with his decision and did not have cordial words to offer about Hayne's former teammates, reported Daily Mail.
Following Hayne's announcement, Fijian Coach Ben Ryan told World Rugby that he was not making any promises about a guaranteed pass to the team. He expects that it will be a "huge challenge" for Haynes. For the coach, it's either Haynes is as good as it seems or the Fijian seven is just on a whole, different level. Ryan aims to have 12 players as antecedent to the final Olympic selection.
Hayne is scheduled to join them in London on May 16.
Here are some reactions on Twitter:
MEET IBT NEWS FROM BELOW CHANNELS