Heads up, bands of today: here's why Gene Simmons and KISS still rock 40 years on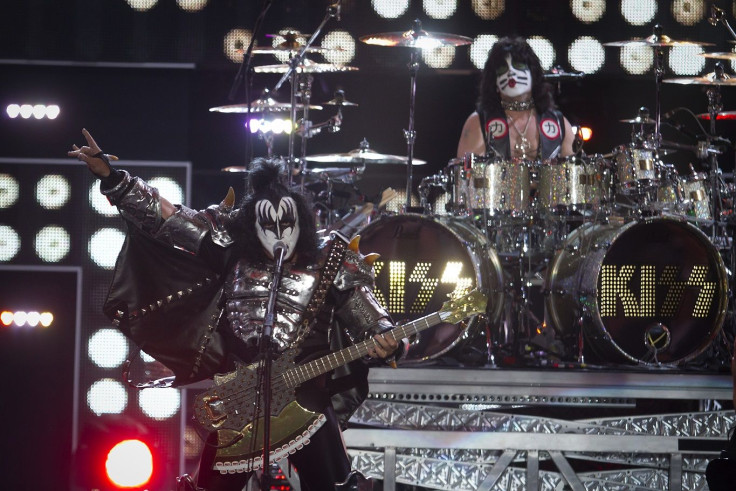 After 40 years, KISS still loves it loud.
The renowned hard rock band has just completed the Australia and New Zealand leg of its 40th anniversary world tour, proving that KISS can still shout it out loud.
The show did not hold back on the theatrics, with fireworks and a gigantic mechanical spider encroaching the stage. Bassist Gene Simmons thrilled fans with his famous fire breathing and blood spitting routines, and lead singer Paul Stanley serenaded the audience on a high-rise platform in the middle of the crowd. The band have played concerts in Perth, Adelaide, Melbourne, Sydney, Newcastle, Brisbane and Auckland. KISS visited Newcastle for the very first time in its 40 year history.
KISS was formed in 1973 in New York by Gene Simmons and Paul Stanley, who enlisted Ace Frehley on lead guitar and Peter Criss on drums.
Over the years, Simmons and Stanley have signed on different lead guitarists and drummers, including Tommy Thayer (current lead guitarist), Eric Carr, Vinnie Vincent and Eric Singer (current drummer). These hiring and firing decisions have resulted in some interesting changes in the band's overall sound over the decades, with KISS going from a classic rock act in the 1970s, to glam rock in the 80s and back to a hard rock sound in the 1990s and beyond. Its songs range from classic, guitar-heavy rock songs to love ballads, power ballads and disco. None of these style changes are disjointed, however, and the band's sound has remained distinctive.
Many rock bands have been plagued with drug and alcohol problems, which has led to their downfall. KISS, however, has been steadfast in keeping away from the booze and the drugs, and this is probably why the band has been able to keep making music for 40 years. Simmons himself does not drink, and does not tolerate drug or alcohol abuse in his band. In fact, he has said that former band mates Ace Frehley and Peter Criss were fired from KISS because they were addicted to drugs and alcohol. This hard stance against drugs and alcohol saved KISS from falling to the problems associated with substance abuse that have claimed other bands' careers, such as the Sex Pistols and Amy Winehouse.
KISS also has the ability to adapt and change to music trends so it stays relevant. In 1983, the band made the bold move to appear without its members' trademark makeup and costumes on MTV. This was done in response to the dwindling interest in hard rock and growing interest in glam and hair rock, and the band was in big trouble as its fan base shrank and its members' relationship problems grew. By forgoing its make-up, the band pulled itself out of a career nosedive and KISS released several best-selling albums soon after, including "Lick it up" (1983), "Animalize" (1984), "Asylum" (1985), "Crazy Nights" (1987) and a compilation album called "Smashes, Thrashes and Hits" (1988).
After releasing an album in 2012 called "Monster" and an induction into the Rock and Roll Hall of Fame in 2014, the members of KISS have no plans of slowing down. The band released a new single, "Yume no Ukiyo ni Saitemina", with Japanese band Momoiro Clover Z on January 28, 2015. The song peaked at number one on Japan's Oricon daily singles chart and number two on the weekly chart.
More collaborative efforts with other bands may come in the future as the music of KISS transcends time and generations. Perhaps, while there is still demand from the next generation of fans, KISS will still make music.
Contact the writer at feedback@ibtimes.com.au, or let us know what you think below.
MEET IBT NEWS FROM BELOW CHANNELS