'Gods of Olympus' exclusive: Aegis Interactive talks game inspiration and new mechanics, announces Android version in the works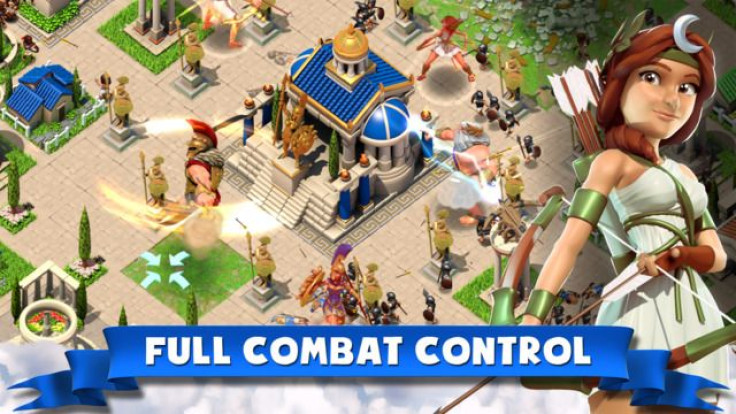 In just a few months since its release, "Gods of Olympus" from Aegis Interactive has received the acclaim of several fans and critics. While at first glance, it has some common features with city-builders and battle-strategy titles, the mobile game has some key unique points that make it stand out.
From fully controlling the attacks of soldiers to true cooperative team play, developer Aegis Interactive takes some winning strategies from inspiration games and mixes in its own brand of mechanics to give a new spin to mobile battle strategies. The game has already enjoyed 60 million battles played so far.
International Business Times Australia talks to Aegis Interactive's Jay Abney, who is also one of the key creators of "Gods of Olympus." Abney revealed some interesting insights, such as the fact that the developer had taken some inspiration from developer-favourite games like "Age of Empires," when the team had started creating the game.
"We felt that the best way to recapture this feeling on mobile was to give the player control of a handful of ultra-powerful characters and make them the focus of a battle between massive armies. We loved the classical age setting of the original 'Age of Empires,' and this led us to reimagining the Greek gods as these towering forces of destruction.
While "Gods of Olympus" is not afraid to look at its humble beginnings of being inspired by other games, it does have its own share of new offers, especially amid new and booming battles-based titles. When asked what the biggest difference "Gods of Olympus" offers players, Abney points to true cooperative play.
"You act as a direct combatant in your allies' battles! When you assist your allies (or assist in the defense of your own city), you deploy troops right into the fight in real-time. Battles in 'Gods of Olympus' can be huge, and it's not unusual for alliance members to deploy more than a thousand extra troops into combat!"
"Gods of Olympus" also features true simultaneous live games. This allows friends and team members to be more in tune with each other's play styles, especially since this is all about deploying troops in one battlefield at the same time.
"When you attack a city with your gods, your friends and allies join you live in the battle, deploying troops directly into the fight! Everyone can fight together side-by-side, and your enemy's allies can collaborate to mount a defense against you."
What this creates is an even bigger battle of epic proportions. "Large" goes beyond mere battlefield size, but also allows a more social gaming experience, especially since the game provides a more focused approach to multiplayer battles.
This is what makes "Gods of Olympus" work as a game—and invites more players into its scope. Music to the ears of some freemium players would be the fact that the game was created for freemium and premium players in mind. Gone are the days when waiting times for buildings—which can then be rushed by premium in-game currency—became a hindrance for creating a building that a player needs at the moment.
Additionally, "Gods of Olympus" does not make looting a big problem among players. Unlike some games that has the danger of players losing their resources, here, a successful defense will instead reward the player. Defense then becomes a way to earn, rather than possible way to lose resources.

"I think it's this immediate gratification, positivity, and focus on action that have helped the game click so well with new players. Games are meant to be fun! Why make people wait? We believe that the best way to gain loyal players is to just get the fun core of your gameplay in front of your audience. Make them happy, show them a great time, and they'll be your greatest advocate."
More than these features designed to set "Gods of Olympus" apart from other battle strategy games, the developer is also looking into adding more content to keep the community fired up. Part of the roadmap are a few new gods and gameplay modes, as well as some new single-player campaigns. Abney had also teased one particular idea from fan feedback that's brewing in the drawing boards, which is the alliance war.
"We can't get too much detail this far out, but with our simultaneous real-time play, we're confident that the alliance wars feature is going to be amazing."
"Gods of Olympus" is currently only available to iOS players. However, Aegis Interactive revealed that it is already play testing the Android version. It is expected to release sometime in the late summer to early fall this year on Android devices.
Check out the rest of the interview soundbites below. Aegis Interactive reveals some of more of its plans, including progress with the Android platform, future expansions and additional gods.
IBT AU: 'Gods of Olympus is currently free-to-play. Are there any microtransactions/paid expansions that you're planning to release?
Jay Abney: All content related to gameplay is free in 'Gods of Olympus,' and we plan for all future gods, campaign and contents to be available to free players as well. It's important to us that all gameplay elements be available to every player, whether free or paying.
We do, however, have premium art contents in the works! Very soon, we'll be offering premium non-gameplay content such as some very fun alternative skins for the gods.
How will you make the gods available to future Android players? Will you release all of the gods at once (including recent releases like Hades) so they won't be too behind compared to iOS players?
Yes! Android development is going very well; I now play all of my own game on our internal Android builds! When the Android version is released, it will move in lockstep with the iOS version. They'll be completely unified, with all of the same gods and content available to players on either platform.
What will keep your players hooked to the game even after collecting most of the gods?

Every god has 3 powers (including a super-strong Ultimate Power), so with 7 gods (and more to come) there's a whole lot of gameplay space to explore. Once you've acquired every god, there are a wealth of strategies to try -- what's the best combination of gods and their abilities? Is it better to go in hard and play super aggressively? Or should you play from the outside and systematically take a city apart?

On the defensive side, there's also a tremendous variety in base-building strategy. Every god has a Temple as well as their own Monument, each with unique defensive abilities and bonuses. You have complete freedom when choosing how and where to place your defensive towers, academies, and archery ranges. And all of this defensive variety means that life is a lot more interesting for the attacker, too! Every base you attack looks different from the last, and the strategy that worked in the prior battle may not be effectives against this new base.
Will you allow cross-platform play once the Android version is released?
Yes, we'll have true cross-platform play! Android and iOS players will battle together in the same world; we make no distinction between the two platforms. iOS players will be able to ally with their Android friends and take on the world together!
Any teasers on the next god that you have up your sleeve?

While I can't get too specific yet, I can say that as with the other gods, we'll be opening up a new angle on how to approach combat. He/she won't play quite like any other god!
MEET IBT NEWS FROM BELOW CHANNELS