German business and industry keen to hire refugees for jobs: Seeks suitable policy changes from government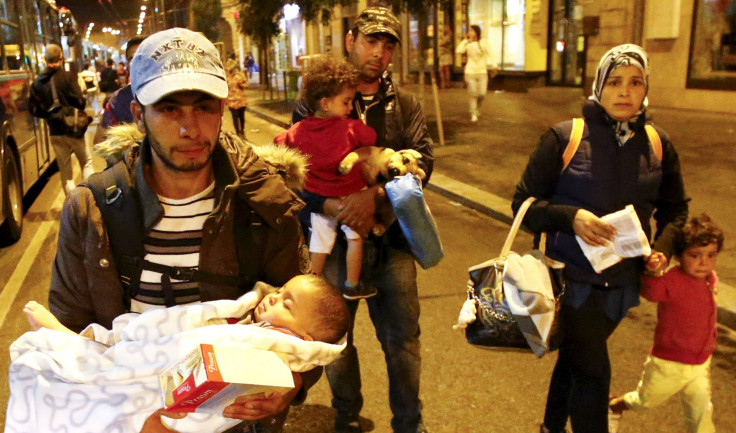 Despite the reservations of German political leadership, the business and industry in Europe's top economy is taking a more positive view of the refugee influx from Syria and elsewhere. In the recent influx, thousands of refugees arrived in Germany and it is expecting more.
The situation has given a new hope for business and industry to solve its manpower crunch, as calls are growing louder from business leaders to offer jobs for refugees than keeping them on welfare benefits.
"If we can integrate them quickly into the jobs market, we'll be helping the refugees, but also helping ourselves as well," noted the head of BDI industry federation, Ulrich Grillo, reports AFP.
Germany is the chief attraction for Syrians, Afghans and Eritreans who are fleeing war and oppression in their home countries and taking refuge in Europe.
The German businesses are seeing an economic case beyond the humanitarian imperative of protection. For Germany, the challenge of rapidly ageing population and low birth rates has hit its skilled labour pool.
Lowest unemployment
Germany is also better off with its low rate of unemployment, standing at 6.4 percent, which is the lowest since its unification. According to Employers' federation BDA, the country has a shortage of 1,40,000 engineers, programmers and technicians. The healthcare and leisure sectors are also not getting qualified workers. Overall, some 40,000 training places across all sectors are going to remain unfilled in 2015. The Prognos think-tank says the shrinking number of qualified workers in Germany will zoom to 1.8 million in 2020, and it will touch 3.9 million by 2040, if timely action is not taken.
Already, at local level, many businesses are opening their doors to the refugees by crafting new initiatives. In the Augsburg region of Bavaria, the HWK local Chamber of Crafts appointed an "intercultural advisor" to deal with the issue and he succeeded in placing 63 young refugees in a training scheme recently.
Alexander Wilhelm, who handles labour market policy at the BDA said: "It's up to the government to act"to relax the rules on hiring. He told media persons that companies need to get a guarantee that once a trainee is taken, he will not be deported some day. Businesses also want to scrap the rule that requires them to prove that no German candidate was available before filling a position with a refugee or asylum-seeker.
German proficiency
Besides speeding up procedures for recognising professional and educational qualifications of refugees, businesses also want refugees to learn German. This is because "to enter the labour market or secure an apprenticeship, there is generally a lack of German language skills," observed, the head of the Chamber of Crafts, Holger Schwannecke.
Labour and Social Affairs Minister Andrea Nahles, whose ministry relaxed the conditions for refugees to access company internships, also said: "people who arrive here as refugees should quickly become our neighbours and colleagues."
Syrian refugees arrive in Munich
Meanwhile, new batch of refuges are queuing up at registration tents in Germany to be screened and fed. In Munich, Arabic-speaking interpreters are helping refugees with procedures at the registration centres.
German Interior Ministry spokesman Harald Neymanns said Berlin's decision to open its borders to Syrians was exceptional. He said Europe's Dublin rules requiring people to apply for asylum in the first EU country is not yet suspended, reports RTE news.
"The Dublin rules are still valid and we expect other European Union member states to stick to them," he said.
For feedback/comments, contact the writer at feedback@ibtimes.com.au or let us know what you think below.
MEET IBT NEWS FROM BELOW CHANNELS