'Game of Thrones' season 7: New video shows Daenerys pulling down Baratheon flag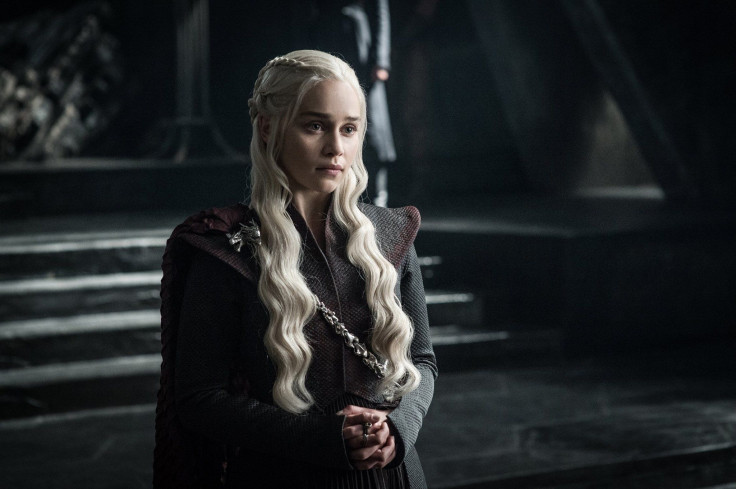 New video of "Game of Thrones" season 7 has surfaced online, teasing more footage. One of the scenes shows Daenerys (Emilia Clarke) pulling down what may be the last Baratheon flag of Stannis (Stephen Dillane). Meanwhile, the titles and synopsis if the first three episodes have been released by HBO.
Daenerys will conquer Dragonstone in the premiere episode. A new video posted on YouTube shows the Mother of Dragons pulling down a flag with a stag at the centre of a flaming heart, the sigil of Stannis. After his forces were defeated by the Boltons in the North, the capture of this castle may mark the end of an army still loyal to Stannis.
While Daenerys secures a foothold in Westeros in her ancestral seat of power and Cersei (Lena Headey) plans the defence of the Iron Throne, the real war is being waged against the White Walkers by Jon Snow (Kit Harington). The New King in the North is joined by Beric Dondarrion (Richard Dormer) and the others, in a fight beyond the Wall.
The Lannisters are busy fighting their war. Jaime (Nikolaj Coster-Waldau) leads his army into battle this year. The Mountain (Hafþór Júlíus Björnsson) too will see some action, but that may only be indoors and not on the battlefield.
The titles and the synopsis of the first three episodes of the next season have been posted on Entertainment Weekly. The premiere is titled "Dragonstone." The plot focuses on Jon Snow organising the defence of the North, Daenerys going back "home" and Cersei trying to "even the odds."
With Theon (Alfie Allen) and Yara (Gemma Whelan) joining forces with Daenerys, it is logical for Euron (Pilou Asbæk) to align himself with Cersei. "Game of Thrones" season 7 promises a big naval battle involving the Greyjoys. The Sand Sisters on the other hand appear to have a low key involvement this year.
MEET IBT NEWS FROM BELOW CHANNELS