'Game of Thrones' Season 6, Episode 1 spoilers: 'Feed her to the hounds,' Melisandre is an old deformed haggard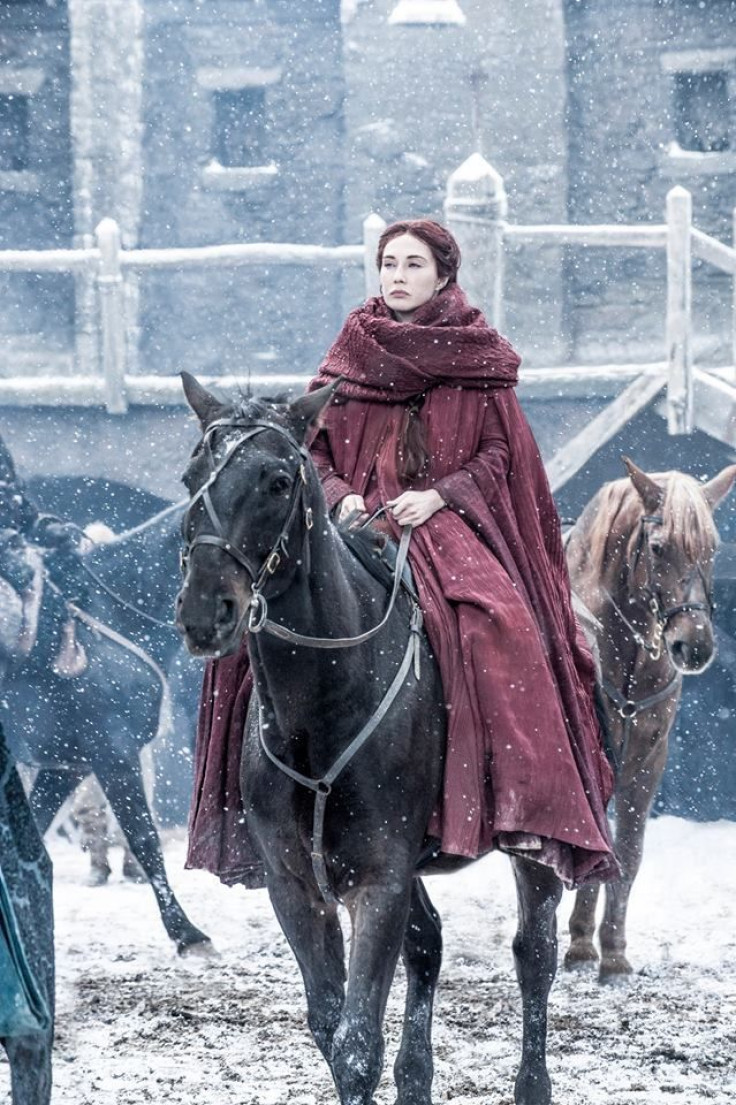 The moment finally arrived when the camera panned the walls of Winterfell and zoomed into Night's Watch and when the painful howls of Ghost pierced the air that smelled of pungent death. "Game of Thrones" fans, especially Jon Snow (Kit Harington) admirers, waited with bated breath, remembering the thousand spoilers and fan theories, but in total dilemma. Was he really dead? Will he really be dead?
[Spoiler Alert] There he lay, the Bastard of Winterfell, the Lord Commander, dead from every angle. He lay in a pool of blood, white as a corpse. Showrunners David Benioff and D.B. Weiss were not joking after all. The feeling was omnipotent. How could a god-like superhuman be killed by the hands of petty men when he survived the White Walkers?
Ghost's howls alerted Ser Davos (Liam Cunningham) and Snow's loyal friends. How sorely Samwell Tarly (John Bradley-West) was missed! Davos, in shock and utter disbelief, ordered the men to take Snow's body inside. Eddison Tollett (Ben Crompton), another Snow loyalist, swore revenge. Davos pointed out the futility of a rebellion as they were highly outnumbered. However, he did also point out that the Wildlings were Snow loyalists, too.
Even though a rebellion seemed like a good idea, "Bring back Jon Snow" supporters were surely thinking of something else entirely. Their minds and eyes were searching for Melisandre (Carice van Houten) as if she was their last hope in bringing back Snow. Had fans gathered together, "resurrection" would have become a chant.
The Red Woman came, but the very look of her was a turn off. Downcast and dejected, she walked into the room hosting Snow's body. She touched him, but there was no sign of life. Nothing stirred, not even a finger. All she said was, "I saw him fighting in the flames at Winterfell." That's it. Has she really lost her powers? Davos did not feel so but he meant that for something different, for killing Ser Alliser Thorne in secrecy actually.
The show shifted to various other plots and storylines left open in "Game of Thrones" Season 5 finale. However, the silence surrounding Snow's death remained unbroken. The anticipation arose again when the Night's Watch was shown. However, this time, Thorne came to warn Snow loyalists, including Davos, to open the door and surrender by sundown.
Thorne's offer to Davos of going south, with or without The Red Woman, was more of a threatening. Should Davos refuse, there would be blood. Fans still did not see anything surrounding Snow's fate to cheer them up. Hopes of seeing their favourite hero alive were quickly fading.
One thing did cross fans' minds, though: Why were Davos and the others holding back Snow's body when they were sure he was dead? If Melisandre has lost her powers, why was the episode titled "The Red Woman?" The answer came in the end when Melisandre performed her obligatory strip in front of a mirror and removed her necklace.
The beautiful figure transformed into an old and deformed haggard. Was she like this all the way or was it some sort of punishment by the Lord of Light? As mysterious as it may feel, she did nothing in the lines of resurrection, but simply slipped into her bed.
Without a tinge of doubt, Snow loyalists felt hatred and total disregard for Melisandre as all hopes were lost. And as Ramsay Bolton (Iwan Rheon) said about her violent sex partner Myranda's (Charlotte Hope) dead body, viewers felt the same, as their favourite character lay dead even as "Game of Thrones" Season 6, episode 1 concluded.
"This is good meat. Feed it to the hounds," Ramsay's words resonated inside the minds of Jon Snow admirers.
MEET IBT NEWS FROM BELOW CHANNELS