Floyd Mayweather's Team Money Confirms Fight With Manny Pacquiao Is Close, Mayweather Sr. Still Hints At PED Use of Pacquiao In The Past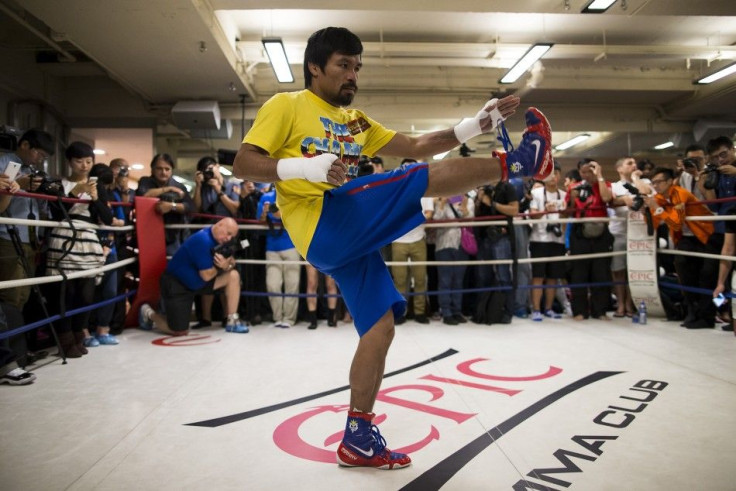 The much anticipated mega fight between Floyd Mayweather and Manny Pacquiao appears closer to happening but Mayweather Sr. still hints at Performance Enhancing Drugs (PED) use of the Filipino boxing icon in the past.
According to the confidant of Mayweather's adviser, Sam Watson, the final details of one of the richest fights in boxing history are being worked out and the announcement of the May 2 mega fight is imminent.
"They're putting it together now," Watson said. "They're going to do a Showtime-HBO [joint pay-per-view] like they did last time with Lennox Lewis and Mike Tyson." The remarks of the insider lent credence to the previous reports that Team Money has addressed the fight negotiations.
Despite the progress of the mega-fight, Floyd Mayweather Sr., the father and trainer of the undefeated American boxer still hints on the PED use of Manny Pacquiao. In 2010, Mayweather Sr. accused the Filipino boxer of PED use when he refused to do a random drug test. Eventually, both sides reached a confidential settlement on the matter. But then again, according to Boxing Scene, Mayweather Sr. still hints that Manny Pacquiao hasn't knocked out anybody in five years, after his PED use accusations. In fact, Mayweather Sr. said that it is a joke that Manny Pacquiao couldn't knock out Chris Algieri who fought like an amateur.
Thus far, Mayweather Jr. has two remaining bouts in his contract with Showtime and CBS, while Pacquiao is aligned with HBO. Despite the difference in pay-per-view channels of both sides, Top Rank CEO Bob Arum talked about the Mayweather vs. Pacquiao fight negotiations in a recent interview with Brad Cooney.
According to Arum, they are trying to put the mega fight together and they've already negotiated on all points. Arum revealed these negotiations are no different from previous deals with Mayweather's team. In fact, he said whenever Team Money negotiates, they claim afterwards there's no negotiation that happened. However, he added that this time, CBS CEO Leslie Moonves has been moving mountains trying to close the Mayweather vs. Pacquiao match.
To reach the author of this article e-mail d.ramos@ibtimes.com.au
MEET IBT NEWS FROM BELOW CHANNELS