'Fallout 4' Wasteland Workshop DLC announced for April 12 with new official trailer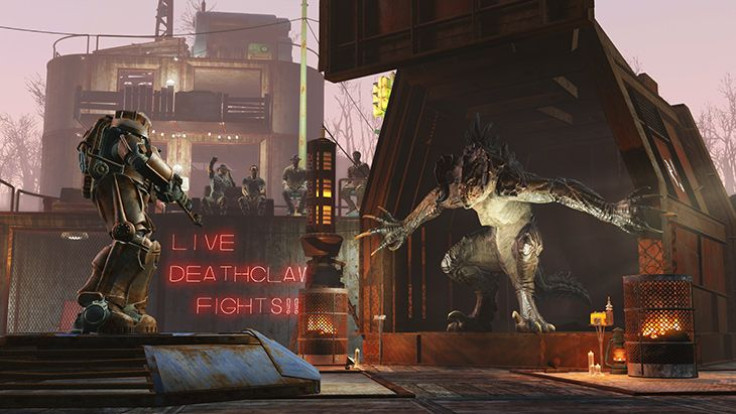 Bethesda has released a new trailer for its upcoming Wasteland Workshop DLC. Here, "Fallout 4" players will get to see what the "workshop" part means for the expansion.
Interestingly, there's a similar spin to what "Fallout 4" players can do in Automatron and in what can be captured in Wasteland Workshop. In the middle of the trailer, seen below, players can start fortifying their territories. But more poignant is how an arena-lie setup has been created, where containers filled with different creatures, serve as a battle arena.
The goal of Wasteland Workshop, considered as the smallest expansion for "Fallout 4," is to capture live wasteland creatures and have them participate in fights within an arena. To do so, traps can be built near the territory.
One way to put up with these creatures in the wasteland is, as the trailer suggests, prizes for decorations. Mounted heads and signs, and even a decontamination shower is available for those who are looking to explore the wasteland, bring home some scrap in useful and weird forms and make the settlement an even safer and entertaining territory.
According to Forbes, the Wasteland Workshop may not fare as well as the first DLC in terms of mission content, but since it is just US$5 (approx. AU$6.61), this may be justified.
Wasteland Workshop will come on April 12. Even before that, some more information on the third DLC, titled Far Harbor, has already been mined by enthusiastic fans. Gamerant reported that a Redditor managed to see some more details that will be included in the Far Harbor DLC. '
Datamining yielded files that were labelled "DLC3," with the biggest finding being a giant squid. This will fit in perfectly with the vast yet supposedly empty "Fallout 4" ocean. Previous efforts to explore it had only yielded a few loot here and there, but if the new finding for the DLC holds true, then it may be the nautical sea adventures lie in wait.
The previously sighted harpoon gun in "Fallout 4" may actually be officially released now as a weapon in the wilds of the waves. Bethesda will likely release more details on Far Harbor once Wasteland Workshop gets launched.
Wasteland Workshop DLC trailer (Credit: YouTube/Bethesda Softworks)
MEET IBT NEWS FROM BELOW CHANNELS