English designer sues Alexander McQueen for 'copying' Kate Middleton's wedding dress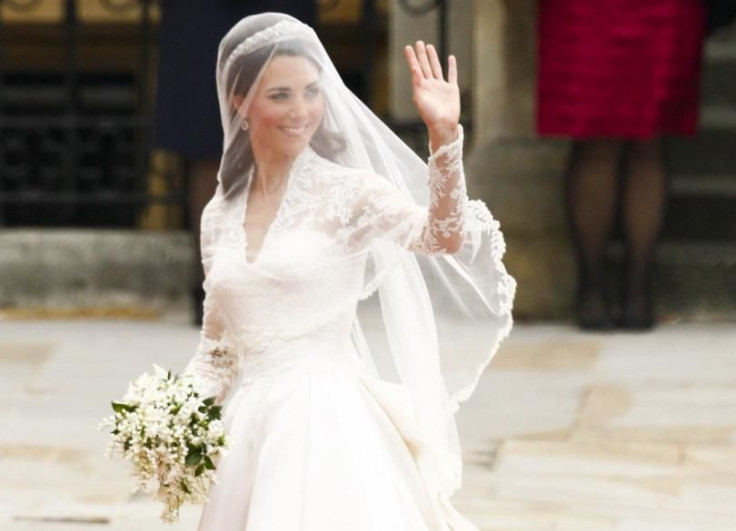 A wedding dress designer is suing Alexander McQueen for allegedly copying her design in making Kate Middleton's wedding dress. The London-based dressmaker has filed a case against the world-renowned fashion house, claiming that the latter stole her ideas for the famous white gown.
The Duke and Duchess of Cambridge were married in April 2011, where Kate Middleton showcased the beautiful dress designed by Sarah Burton, creative director at Alexander McQueen.
Months before the royal wedding, the dress was a well-kept secret that even the embroiderer team at Hampton Court Palace remained unaware of the entire gown design and specific designer until before the creation was publicly announced.
According to the owner of Christine Kendall Couture, Christine Kendall, her ideas resulted to Kate's gown. She sued McQueen, saying that she forwarded sketches themed after the 1950s to Clarence House in November 2010 and even received a letter of thanks from Prince William and Prince Harry in January 2011 for her drawings.
Kendall also claimed that Kate saw her forwarded drawings as well. Kendall is suing Alexander McQueen for breach of copyright, considering the striking similarities between the royal wedding gown and her own sketches. She filed her claim before the Intellectual Property Enterprise Court in London. If she wins the case, Kendall may receive up to £500,000 (AU$940,000) in damages.
"A very important part of creating a couture gown is to create aspects that are not easily copied. To my knowledge, there is nothing similar available anywhere," she said in 2013 (via the Daily Mail).
Kate Middleton's representative countered by saying that the Duchess never saw Kendall's drawings.
Alexander McQueen's representative also responded by saying that they were utterly baffled with the recent legal claim. Kendall reportedly approached them first in 2012 and Sarah Burton never saw any of the former's designs or sketches. Burton allegedly only knew about Kendall about 13 months after the royal wedding, so there was no way that Kendall could have influenced their designs at all.
"We do not know why Ms Kendall has raised this again, but there are no ifs, buts or maybes here: this claim is ridiculous," the spokesman said in a report by Mirror.
More updates and details are expected soon.
MEET IBT NEWS FROM BELOW CHANNELS