'Destiny Rise of Iron' revealed with trailer, Gjallarhorn preorder and new features, given M rating by Australian Classification Board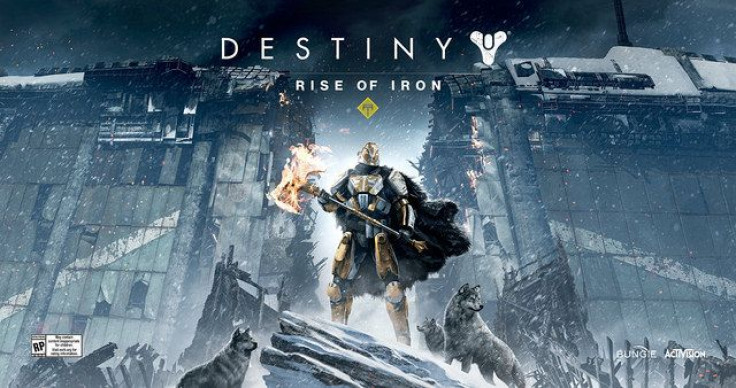 While the essentials of the upcoming "Destiny Rise of Iron" has been leaked ahead of the "Destiny" Reveal Stream, Bungie still managed to introduce a few key details.
The developer hinted that the expansion will see the return of a Fallen Army led by the plague of eternity. As per GameSpot's live blog update, a new strike, raid, zone and faction, as well as new bosses, armours and weapons have all been confirmed to arrive with the update. While there is only one new strike, it seems that there will be updates to the older one so they are in line with the "Destiny Rise of Iron" update.
The reveal stream also confirmed that "Destiny Rise of Iron" will only come to the PS4 and Xbox One, as previously rumoured. The only explanation offered is that the expansion is so large that it is only suitable for current-gen consoles. This may be due to the new campaign and new areas that will be introduced.
Plaguelands is now accessible to Guardians, and it's one of the new areas to be introduced alongside Felwinter Peak and The Wall. As for the Fallen enemies, it seems that they will have some new weapons and capabilities, designed to revamp the fighting mechanics once more.
In keeping with the leaks, there's a new max for the light level again. Though not specified, the developer hinted that the increase is a significant one. As an added bonus, Bungie has unmasked Saladin. GameSpot shows a few screenshots of his face, alongside some concept art for the new expansion.
Bungie did leave some room for a few more surprises. Later in the summer, Bungie will reveal more about the new mode, maps and features, which are all part of the new Crucible. There's still E3 2016 for more reveals, and Bungie has confirmed that it will show off "Destiny Rise of Iron" at the event.
"Destiny Rise of Iron" has been rated M by the Australian Classification Board, as per the press release. As usual, PlayStation players will get exclusive content and timed-exclusivity once the expansion is released.
"Destiny Rise of Iron" will be available on Sept. 20. PS4 and Xbox One players can pick it up for US$30/AU$44.95/NZ$49.95. Preordering will give the bonus of a new skin for the Gjallarhorn, as it will be making a comeback into the game's arsenal. The preorder bonus will allow players to dress the weapon in a sharp, crisp black polish.
PlayStation Blog features a few more screenshots of the expansion, as well as the new look for the Gjallarhorn. The reveal trailer can also be seen below.
"Destiny Rise of Iron" official trailer (Crredit: YouTube/destinygame)
MEET IBT NEWS FROM BELOW CHANNELS