De La Hoya Tweets He Wouldn't Be Surprised If Mayweather Fights Cotto On Cinco De Mayo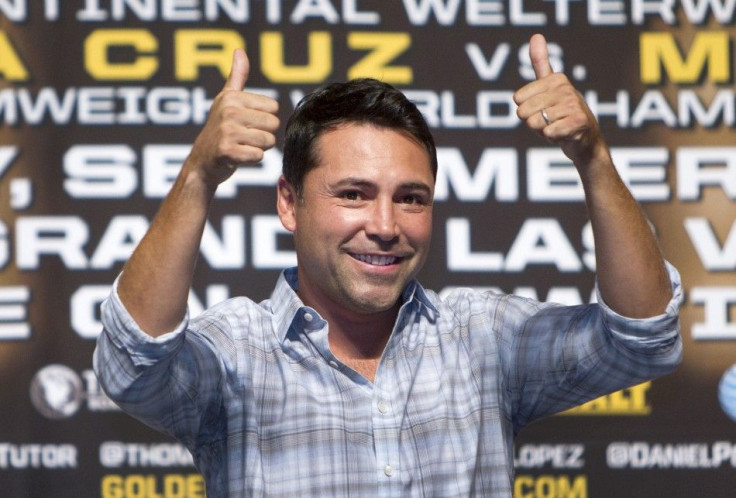 Much like the mega-buck fight between Floyd Mayweather Jr. and Manny Pacquiao, the potential showdown between Miguel Cotto and Canelo Alvarez on May 2 is still not set because both sides are reportedly still discussing the terms for the bout. Recently, Oscar De La Hoya has voiced his frustration about why some of the biggest names in the sporting world of boxing do not fight each other.
I get sick to my stomach that the top fighters today don't fight the best. Wouldn't be surprised if maywether fights cotto #Canelo5Mayo

— Oscar De La Hoya (@OscarDeLaHoya) January 14, 2015
On the topic of the potential showdown between Cotto and Canelo, it seems that the purse split and the revenue are the main culprits why both camps are yet to reach a conclusion. De La Hoya has previously said that everything has been agreed upon on their end and they are only waiting on Cotto's side to seal the deal. The retired six-time world champion said that Canelo has conceded in all the demands including a 50/50 split in prize money.
However, Cotto's advisor Gaby Penagaricano doesn't seem too happy with the purse split that they are presented. Based on the statements that Penagaricano recently made, it appears that Cotto is demanding a bigger share of the prize money off the Canelo fight. According to Penagaricano, it is still unclear whether or not Cotto and Canelo will fight in May as there are still important elements to the deal that are yet to be settled.
"It cannot be more than 50 percent done," Penagaricano said via RingTV in the latter part of December. "The most important factor of the overall equation is not agreed upon."
Judging by the recent comments of De La Hoya on Twitter, one can only speculate that the Cotto-Alvarez fight is still far from materializing. It is likely that Cotto will opt to face another opponent if the Canelo fight doesn't happen. Does Cotto really deserve a bigger payday than Canelo?
As for the Mayweather-Pacquiao fight, Top Rank Chief Executive Officer Bob Arum told Yahoo Sports that the Filipino and everyone from Mayweather's camp have established a deal. Arum added that they are only waiting on the undefeated fighter to step up and say yes.
The way Arum states it, the biggest fight in the history of boxing in years will just be one signature away from happening, but there is still no guarantee that it will. Will Mayweather fight Pacquiao? Will Cotto finally concur to the terms for the Canelo fight?
To reach the author of this article, email r.corpuz@IBTimes.com.au.
MEET IBT NEWS FROM BELOW CHANNELS