Canelo Alvarez vs Gennady Golovkin mega fight: Mexican Independence Weekend treat set for September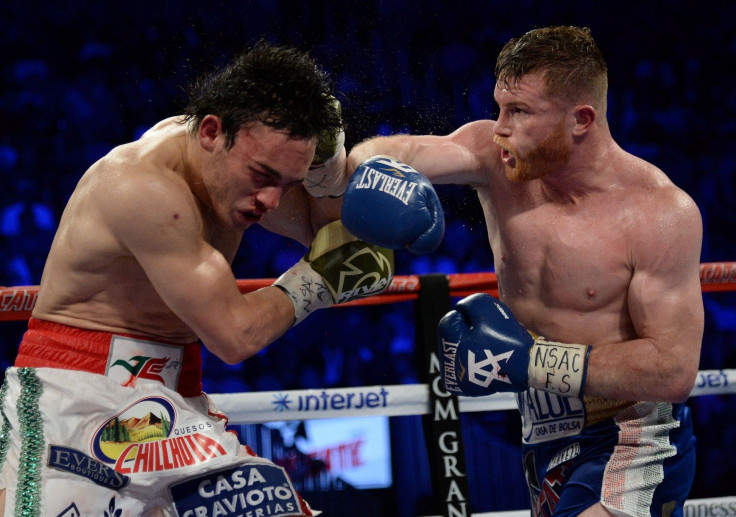 Canelo "Saul" Alvarez won via unanimous decision over Julio Chavez Jr., a boxing match that most deemed as nothing more than a sparring session. The big surprise, however, happened after the match when it was revealed that Alvarez and Golovkin would be facing off on Sept. 16.
It turns out that both sides already discussed plans for the mega fight, with the Alvarez camp confident in defeating Chavez. According to USA Today, Canelo and Triple G will finally get it on during Mexican Independence Weekend.
The only thing left is the official venue where the Canelo Alvarez vs Triple G fight would be held. Golden Boy Promotions CEO Oscar De La Hoya said that he has received various calls from around the globe such as Dubai and the United Kingdom. For De La Hoya, the fight can happen anywhere in the globe.
Canelo Alvarez vs Gennady Golovkin negotiations went smoothly
The Canelo Alvarez vs Gennady Golovkin mega fight is something most have been waiting for, although negotiations bogged down each time. Surprisingly, De La Hoya said that all went well.
While the two sides did go back and forth, the former boxing champion said it was not such a big deal. In fact, he added that the Golovkin camp was such a pleasure to work with.
Was Julio Chavez Jr. merely an appetizer to the announcement?
With the surprise announcement, Canelo's fight with Chavez may have been nothing more than an appetizer. As mentioned earlier, most felt it was nothing more than a glorified sparring session with some revenue earnings on the side.
Not meant to disrespect Chavez, the fight was really an eyesore. Alvarez landed jabs hooks and combo punches at will despite Chavez four-inch height advantage. Canelo landed 228 punches while Chavez only had 71. Fans in attendance booed both fighters at the T-Mobile Arena though Chavez said that he really wanted to get it on with Alvarez, according to Bad Left Hook. But all those were forgotten after the mega fight announcement.
Did Triple G's unimpressive win over Daniel Jacobs factor in?
While most saw how Alvarez pummeled Chavez, finally agreeing to fight Golovkin comes a bit of a surprise. The last time Triple G fought was last March against Daniel Jacobs. It was a rare unanimous decision win for the Kazakhstani boxer and folks on hand were not happy.
Could the breakthrough of Jacobs have anything to do with it? The fact that Golovkin was unable to knockout the 30-year-old American may have helped. But there is also the possibility that the Golovkin camp did that on purpose to goat Alvarez.
Either way, the Canelo Alvarez vs Gennady Golovkin mega fight is set. Many expect a brawl between the two fighters –hopefully not a dull encounter such as the Floyd Mayweather Jr vs Manny Pacquiao back in May 2015.
MEET IBT NEWS FROM BELOW CHANNELS