'Brooklyn Nine-Nine' season 4, episode 9 spoilers, recap: Jake and Holt reverse undermine CJ on 'The Overmining'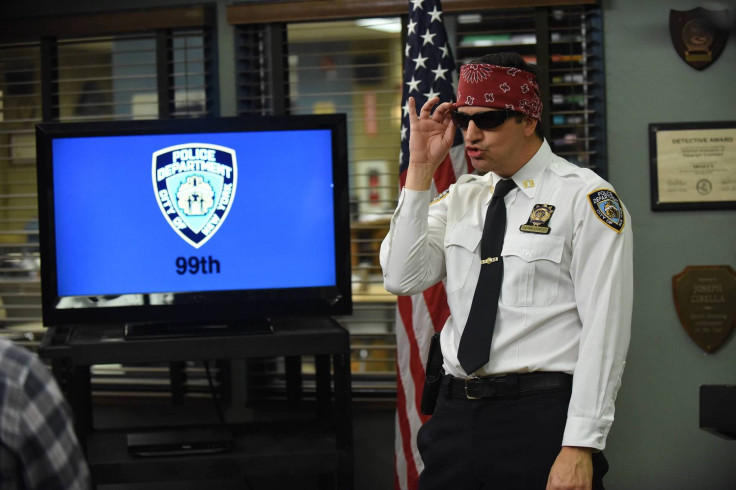 Jake (Andy Samberg) and Holt (Andre Braugher) help Captain CJ (Ken Marino) with a big drug case, Charles (Joe Lo Truglio) and Rosa (Stephanie Beatriz) pamper themselves with foot massages while Terry (Terry Crews) and Gina (Chelsea Peretti) fight over space heaters on "Brooklyn Nine-Nine" season 4, episode 9 (Brooklyn Nine-Nine 4x09).
Spoiler alert: This recap contains plot details about season 4 of "Brooklyn Nine-Nine." The fourth season premiered Sept. 20. The series is available for Australian viewers to watch on SBS every Wednesday at 8:00 p.m.
Captain CJ loses a bag full of drug evidence and Holt offers to help him find it. Jake is initially hesitant to join the search, saying that CJ needs to go and take the fall for being incompetent. He eventually joins Holt in helping CJ.
The three officers head to a restaurant and pose as drug dealers looking for new supplies of heroin. They bust a suspect even though CJ wasn't much of a help the whole time, and was even distracting. They get a lead from the arrested suspect's phone on where Flaco, the owner of the lost bag, is hiding.
READ: 'Brooklyn Nine-Nine' season 4, episode 8 spoilers, recap: Holt is in denial of his and Kevin's lack of sex on 'Skyfire Cycle'
Jake, Holt and a handful of other officers storm the place but Flaco gets loose. CJ, who is just waiting outside in his car, eventually knocks Flaco unconscious by accident when he opens his car door. CJ gets the credit and receives a Medal of Honour, but makes a fool of himself during the press conference when he admits to losing the bag full of drugs in the first place. He eventually gets transferred, allowing the entire crew to go back to day shift.
Charles tricks Rosa into joining him at a foot massage place, which Rosa at first guarantees she won't like. She later sheds tears of joy while being massaged. Charles and Rosa later find out that the whole place is a front for money laundering. They hesitantly arrest everybody at the parlour for "ruining something perfect."
READ: 'Brooklyn Nine-Nine' season 4, episode 7 spoilers, recap: Amy's dad knows about Taylor Swift's restraining order against Jake on 'Mr. Santiago'
Terry tells the precinct that they have to reduce energy usage and to get rid of trivial accessories. Gina reacts when her space heater is ordered to be removed. She threatens Terry to back off while referencing her kindergarten teacher's suicide note that contained her name.
Gina persists even after Amy (Melissa Fumero) gives up her laminator. Even worse, she doesn't budge when the heater burns her dress. Gina takes it even further when she brings two more space heaters and one portable air-conditioning unit to the office.
Terry counters by giving space heaters to everyone at the precinct, including Hitchcock (Dirk Blocker) who is doing disgusting things with his unit. Gina finally gives up and an ecstatic Terry lauds himself for his "win."
MEET IBT NEWS FROM BELOW CHANNELS