Brad Pitt to play John Teller in 'Sons of Anarchy' amidst rumours of divorce with Angelina Jolie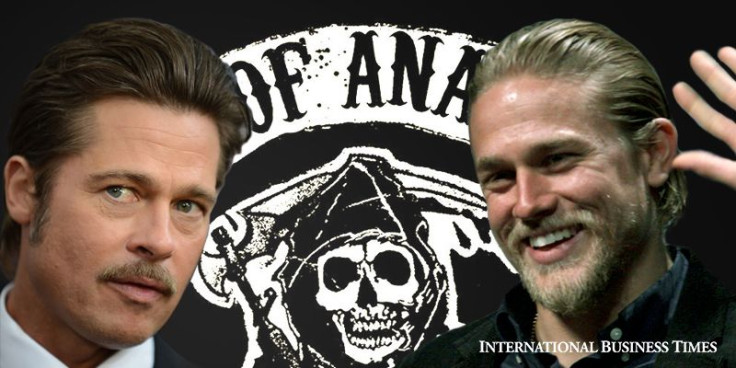 While rumours about Brad Pitt and Angelina Jolie's divorce are flying high, which may after all be false, "Sons of Anarchy" fans may see Pitt playing a major role as Jax Teller's father, John Teller.
A report by the National Enquirer recently stated that the popular Hollywood couple are considering a separation after Jolie's sex and drugs "diary confessions."
According to the report, Pitt could take the confessions in the right spirit and was pretty annoyed by his wife's past problems involving "kinky sex games" and "heroin binges." An insider apparently leaked the news that 52-year-old Pitt is "fed up with hearing the extent of her debauchery, many forays into sex with both men and women, and the drugs."
Pitt became enraged when he learnt about new details of Jolie's past from her "never-before-seen" diaries.
"It continues to eat away at them. This could blow up their marriage," the insider alleged.
However, Gossip Cop dismissed the report as false and "nonsense."
After the Golden Globe Awards in January, rumours of an alleged affair between Pitt and Gomez also started making rounds. It was reported that Jolie got insanely jealous over Pitt's friendship with the young actress. Reports of Pitt cheating on Jolie with Gomez became the talk of the town after Gomez appeared in Pitt's film "The Big Short." Gomez even posted a photo of them together.
The good news is Pitt may be starring in the "Sons of Anarchy" prequel that is already underway.
"Did you read that about Brad Pitt maybe playing my dad? Brad Pitt as John Teller. How awesome would that be?," said Charlie Hunnam when he heard the news.
Hunnam is not so sure about reprising his role of Jax Teller. In an interview with Men's Journal, Hunnam expressed his sadness over the death of his character in the end on the show and that the show got cancelled. However, he was extremely optimistic and charged up to see Pitt having a role in the prequel.
MEET IBT NEWS FROM BELOW CHANNELS