Bourke Street crash: 3 killed after man drives into Melbourne CBD's pedestrian-only area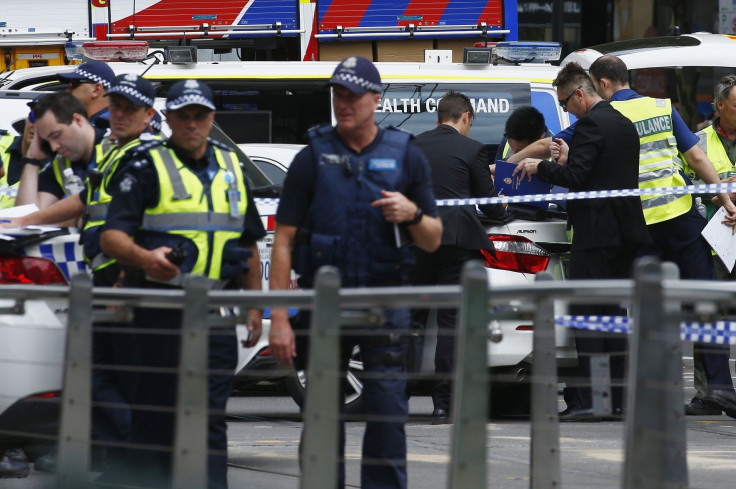 Three people were killed after the driver of a vehicle ran over in a crowd of pedestrians in Melbourne's Bourke Street Mall on Friday. As many as 20 others have been reportedly injured.
The horrifying incident occurred during a high speed car chase through the centre of the Melbourne CBD. The suspect, who was being chased by the police at 1:40 p.m., gained entry into the pedestrian-only section of the Bourke Street Mall and started driving in a haphazardly.
According to Acting Commander Stuart Bateson, from Victoria Police, the suspect has been taken into custody. He was being sought in connection with an earlier stabbing in Melbourne's southern metro region. "We have the offender in custody. There is no further threat to the public at this stage," Bateson said. He added the incident was not terror related, as reported by AAP (via SBS).
Rebecca Russo witnessed the incident as three people were struck by the car. "We were just standing on Bourke Street, and we heard a bit of a crash coming from the mall," she said, as reported by Fairfax Media. "I saw a maroon car driving up the pedestrian path on the Flinders Street side. People were running out of the way, they were going very, very fast. I saw him hit a few people. I saw bodies flying into the air."
Laura, who also witnessed the incident, said she saw the car near Flinders Street Station. "People were trying to stop this man who was driving around and around and he was half hanging outside the car," she said.
Gunshots were also heard by witnesses. "I was just walking up Queens Street ready to go to Bourke Street Mall and then I saw people running in the opposite direction away from Bourke Street," one witness said. "I asked what happened and someone said shots were fired."
Four people have been admitted to the Royal Children's Hospital. The hospital asked parents not to come in if their children had sustained less-than-urgent injuries.
A major police operation is being conducted. As a result, access to Bourke Street between Williams and Swanston streets has been suspended. Department store Myer, located close to the scene of the incident, was placed on lockdown. People who were inside during the incident were released from the back onto Little Bourke Street after some time.
MEET IBT NEWS FROM BELOW CHANNELS