Barack Obama and Vladimir Putin's awkward handshake in APEC summit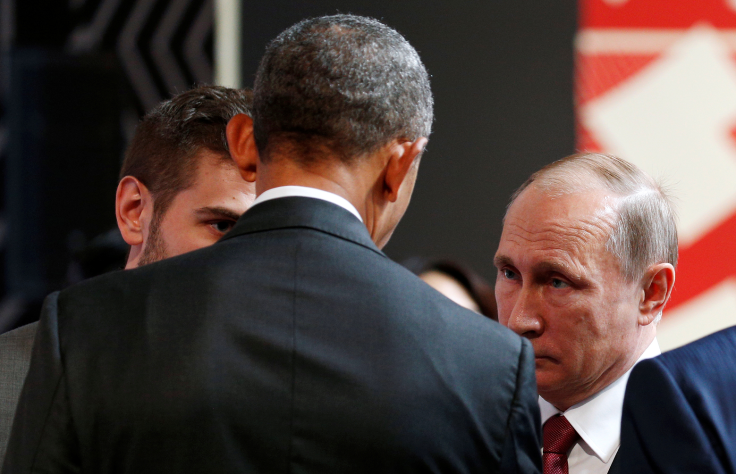 Barack Obama and Vladimir Putin has barely looked at each other during the Asia-Pacific Economic Cooperation summit in Lima, Peru. The leaders were pictured shaking hands while looking in different directions. However, the White House has confirmed that Obama and Putin's conversation lasted four minutes.
"The presidents expressed disappointment that no progress has been achieved on Ukraine," Putin's press secretary Dmitry Peskov said in a statement released to RT.
"At the same time, it was underlined that the two remaining months (of Obama's term) should be used for finding a resolution of the Syrian conflict. To this end, it was agreed that (Russia's foreign minister) Sergey Lavrov and (US Secretary of State) John Kerry should continue communicating," Peskov said.
The White House did not reveal the details of the conversation between Obama and Putin.
Russia UK ambassador Alexander Yakovenko confirmed that there was an attempt to negotiate with Obama over the air strikes. However, the attempt had failed.
"We have been trying to coordinate with this US Administration. We'll continue doing so with the next one," Yakovenko told Mirror.
Yakovenko said that he would talk to Donald Trump when he takes office as Obama's successor in January. He was also hoping that there will be more sympathetic hearing.
Despite the awkward photo, Putin thanked Obama for years of joint work. Putin also invited Obama to pay him a visit anytime.
"I told him that we would be happy to see him (Obama) in Russia anytime if he wants, can and has desire," Putin told Reuters after the APEC summit.
He also said that Trump confirmed that America will mend ties with Russia.
"The President-elect confirmed he is willing to normalise Russian-American relations. I told him the same. We did not discuss where and when we would meet," Putin said.
The meeting between Obama and Putin could be their last before Trump takes office in January.
MEET IBT NEWS FROM BELOW CHANNELS