4 fast facts about the 'Younger' season 4 finale 'Irish Goodbye' [VIDEOS]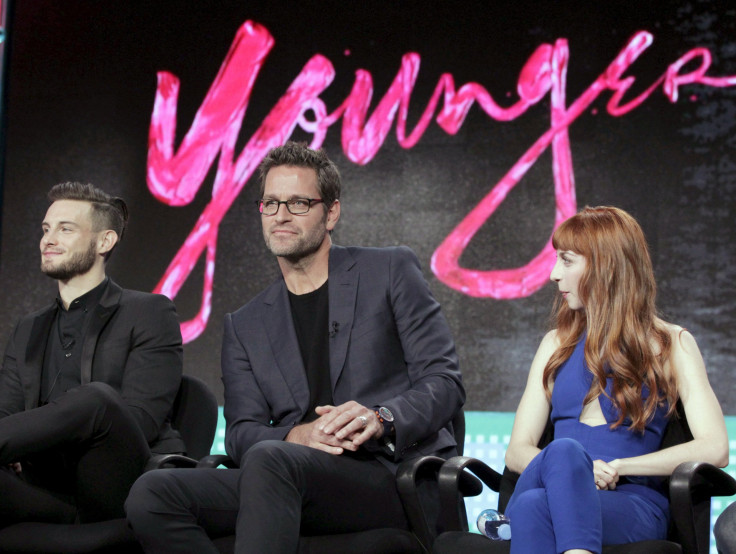 The "Younger," featuring Nico Tortorella as Josh, Sutton Foster as Liza Miller, Debi Mazar as Maggie Amato, Molly Bernard as Lauren Heller, Miriam Shor as Diana Trout, Peter Hermann as Charles Brooks and Hilary Duff as Kelsey Peters, aired its season 4 finale episode titled "Irish Goodbye" on Wednesday in the US. It showed a wedding in Ireland and Charles' personal life being put under a microscope, among other things.
Spoiler Alert: This article contains 'Younger' spoilers. Read on if you want to know more about what happened in 'Irish Goodbye' which aired on TV Land in the US and on Stan in Australia.
4 fast facts about the 'Younger' season 4 finale 'Irish Goodbye'
1. Clare agreed to marry Josh for a green card.
Josh asked Liza to travel to Ireland and attend his wedding with Clare. She brought Maggie with her. However, Liza eventually found out that Clare (Phoebe Dynevor) wanted to marry Josh to get a green card.
2. Josh kissed Liza the night before his wedding to Clare.
On the night before his wedding to Clare, Josh got drunk and found his way to Liza's hotel room. Liza told him that he should follow his heart and that he shouldn't marry Clare if he really didn't want to. This led to Josh kissing her and saying that "It's always been her." Liza also reminded Josh that she can't give him the life that he wants. However, Josh insisted that any life with her is the life that he really wants.
3. Clare found out about Liza's secret.
Liza discovered that Clare already knew her secret regarding her true age, no thanks to Josh. Clare used this information to somehow blackmail Liza into helping convince the authorities as well as their loved ones that they're really marrying for love and not just for her to get a green card.
4. Kelsey had to play nice with Zane while Charles' relationship was put on the spotlight.
Back in New York, Kelsey had no choice but to go with the flow and play nice with her new colleague Zane (Charles Michael Davis). However, he made it difficult to do so with his sneaky tricks, which include his plan to get Charles and Pauline (Jennifer Westfeldt) to appear in "Good Morning America" (GMA) as if they're on their way to reconciliation.
'Younger' episodes: 'It's Love Actually'
The episode prior to "Irish Goodbye" was "It's Love, Actually," which aired on Sept. 6 in the US. The "Younger" TV show airs on Stan every Thursday in Australia. It also airs on TV Land in the US on Wednesdays at 10 pm ET/PT. According to the Wrap, the series was renewed for a fifth season. Stay tuned for updates about "Younger" season 5 in the coming weeks.
Watch 'Younger' videos below:
Source: TV Land/YouTube
MEET IBT NEWS FROM BELOW CHANNELS