2015 US Open Update: Rafael Nadal owns responsibility of recent struggles, won't blame his team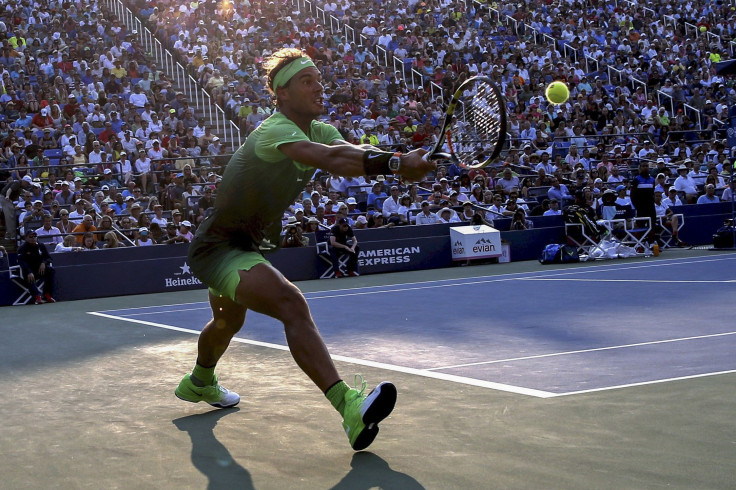 Fresh off a win against Diego Schwartzman of Argentina, former world number one Rafael Nadal of Spain admitted that he's the one to blame for his recent struggles, which resulted in the drop in his tennis rankings. Nadal beat the Argentine in three tough sets, 7-6 (5) 6-3 7-5 and advanced to the second round of the 2015 US Open against 32nd seed Fabio Fognini of Italy.
Nadal took the first set, which went to a tiebreak, after nearly an hour. In the second set, Nadal broke Schwartzman's serve three times to grab the commanding 2-0 set lead. In the third, Schwarzman tried to force another tiebreak but couldn't get there as Nadal won the set, 7-5 and the match.
"I always believed that when I am playing bad, when I am not winning, you don't have to find excuses outside or reasons outside. You have to look at yourself in the mirror and say, That's my fault. That's the real thing. It's not the fault of other people," Nadal stated in the post-match interview via the tournament's official website.
Nadal, who is currently ranked eighth in the world entering the last Grand Slam event of the year, is seeded 8th in this tournament. Nadal last owned the World No. 1 spot in July of 2014 but has since dropped all the way to World No. 10, from June to July, 2015.
"I don't know what's going on in the future, but the real thing is if I have to change something is myself, not the people around me. If I am able to change myself, to play again with confidence, to play again with less nerves that I played for a lot of moments this year, I am able to touch the ball the way that I am touching the ball this week of practice before the US Open, I will be again where I want to be," Nadal added.
Nadal also complimented his Argentine opponent saying Schwartzman's aggressiveness allowed him to lose control of the match in certain points.
Contact the writer at feedback@ibtimes.com.au, or let us know what you think below.
MEET IBT NEWS FROM BELOW CHANNELS