10-year-old Texas girl kills 13 foot, 800 pound alligator with crossbow from 15 yards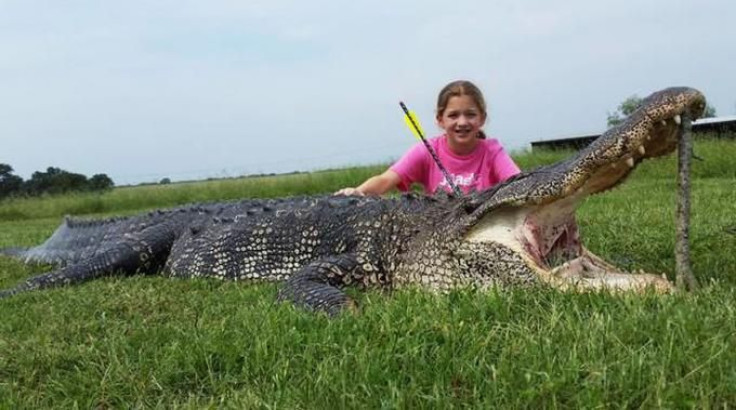 A 10-year-old girl from Texas has killed a 13-foot, 800-pound alligator using a crossbow on her first attempt.
Last week, Ella Hawk fired the weapon just 15 yards away from the reptile at the Guadalupe River, half a mile from where U.S. Highway 77 crosses the river.
When the young girl, who has been hunting for a few years, shot the gator, the bolt hit the beast above its eyes which instantly paralysed and killed the animal. However, just to be safe, Ella's father Tony Hawk, who taught her how to use the crossbow, told her to shoot the gator twice, according to Field and Stream.
Although dad was nervous, Ella, he observed, was not. Tony says the young girl has nerves of steel which resulted in her killing the large gator that was attracted to the bait tethered on the opposite shore while the father and daughter team were on a boat, reports Victoria Advocate. Baiting the gator and hooking it near the bank is in compliance with Texas's alligator hunting law.
For the next two shots, Ella used a .243 pistol. One of the shots landed on the original crossbow bolt. Their guide, Ryan Longer, then went through the mud and pulled the gator to the boat. Longer, who has not killed a 12-foot alligator in years, considers Ella's catch his miracle of the year.
"It could have been a rodeo. It worked out in all aspects. It was like a crocodile hunt in Africa," says Longer who operates Longer's Outdoors and lives on a ranch a few miles south of Victoria.
In 2014, Ella was given the Huntress of the Year award from the Trophy Game Records of the World. The award is given to girls below 17. She is in contention for the same award this year.
Contact the writer at feedback@ibtimes.com.au or tell us what you think below
MEET IBT NEWS FROM BELOW CHANNELS