Woman Not Wearing Mask Pinned To The Ground By Police, Screams 'You're Choking Me'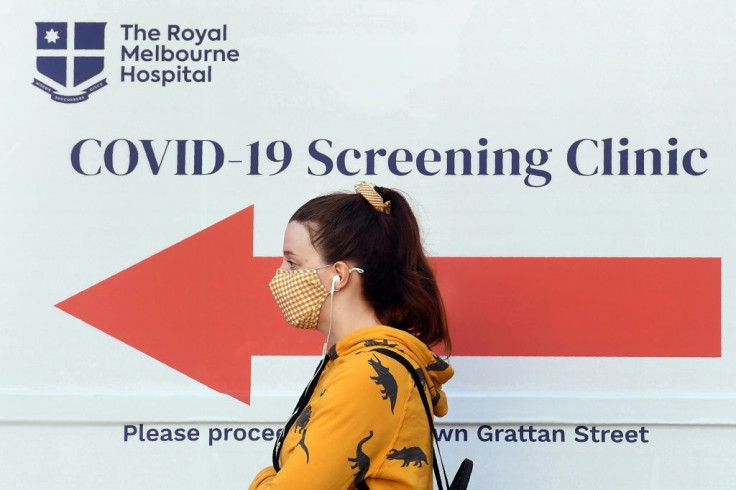 Victoria Police officers are currently under investigation after a viral video showed a woman being arrested for not wearing a face mask in public. The arresting officer could be seen pinning the woman to the ground and grabbing her by the neck.
The incident happened Monday along Wellington Street in Melbourne. Police said in a statement two police officers approached a young woman who was without a face covering while outside. Face coverings are required in Victoria as COVID-19 cases continue surged in the state the past weeks.
Police arrested the woman after failing to provide her name and address, CNN reported.
In the video uploaded to social media, the woman can be seen being pushed to a wall, with the officer's hands on her throat. She can be heard screaming "you're choking me."
At one point, the officer was seen straddling the 21-year-old on the ground. She can again be heard screaming "what have I done?" and "what are you doing?"
The woman's boyfriend, who was also filming the incident, can be heard saying that the woman has a medical exception for not wearing a mask. Police continued to arrest her, however.
The boyfriend later told 7News the way police came up to them was "intimidating."
"When they're just looking for a fight and just looking to fine people and just looking to be bullies, that's not lawful," he said.
The woman later admitted to giving the officers the finger when first asked about the face mask. She was also seen kicking one of the female officers while being pinned to the wall.
"The woman continued to resist arrest and had to be taken to ground before being arrested," police said.
While the woman was not fined for not wearing a mask due to her medical exemption, she was charged with resisting arrest and assaulting a police officer.
MEET IBT NEWS FROM BELOW CHANNELS