'The Walking Dead' season 7 finale preview: 'The First Day of the Rest of Your Life' is sure to be intense [VIDEO]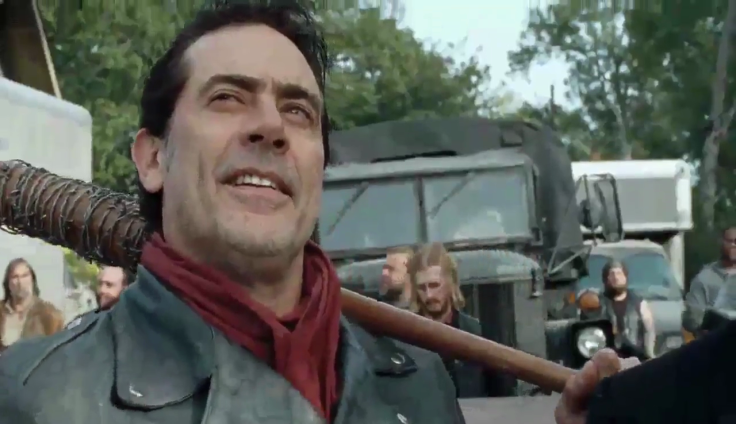 "The Walking Dead" season 7 finale is bound to be intense. The preview for "The First Day of the Rest of Your Life" hints on how Rick (Andrew Lincoln) and his extended company are preparing for the All Out War against Negan (Jeffrey Dean Morgan) and the Saviours. Episode 16 is the instalment every TWD fan is waiting for, and if the trailer is any indication, it's going to blow minds.
Spoiler alert: This preview contains plot details about "The Walking Dead" season 7. The season premiered Oct. 20. The series is available for Australian viewers to watch on Foxtel every Monday, 1:30 p.m. and 7:30 p.m.
The preview of "The First Day of the Rest of Your Life" starts out with the good guys heading back to Alexandria via RVs and bicycles with numbers. If there's any indication that Rick has successfully recruited Jadis (Pollyanna McIntosh) and her junkyard group, this is it. They're now part of Team Alexandria after Rick fulfilled his promise of getting them weapons.
Negan and the Saviours are then shown unable to enter the Alexandrians' territory as barrier trees are scattered along their way. In the next shot, Rick points a gun at Dwight (Austin Amelio), who tells the former that he can "slow them down." When Rick asks Dwight why he's willing to do such a thing, the latter reveals that he wants Negan dead.
Inside a Sanctuary cell, Sasha (Sonequa Martin-Green) asks the Saviours' leader what he wants from her. "You are going to help make sure things get back on track today," says Negan.
Meanwhile, Aaron (Ross Marquand) prepares the explosives along with Daryl (Norman Reedus) and Rosita (Christian Serratos). Rick, Jadis and the others are then seen stationed atop and upfront, all brandishing weapons. Rosita has a worried look on her face as she sees something or someone (could be Sasha) outside Alexandrian walls.
Sasha's voice can be heard in the background telling Negan that no one has to die. "You are wrong," retorts the bat-wielding antagonist as a shot of Rick is shown looking at the mass of Saviours outside Alexandria.
Carol (Melissa McBride), Ezekiel (Khary Payton) and the Kingdommers make their way to help out Rick and the others. The king even brought his pet tiger Shiva with him. Morgan (Lennie James) can be seen with them in a quick shot, but not while they are heading to Alexandria.
The last rapid-fire sequences show Michonne (Danai Gurira) lining up for a shot, Sasha and Eugene (Josh McDermitt) walking side by side in a dark Sanctuary hallway, and Jesus (Tom Payne) looking perplexed in the forest with Maggie (Lauren Cohan). The preview closes with Rick and Carl (Chandler Riggs) running in the middle of a shootout, Daryl aiming a knife at Dwight's face, and Rick lining up a shot after taking cover behind an RV.
"The Walking Dead" season 7 finale sneak peek also shows a torn Morgan, who's not sure if he's joining the All Out War. Ezekiel tries to convince him to do so before the Kingdom's leader and his fighters make their way to Alexandria with an armed Carol.
WATCH: "The Walking Dead" season 7 episode 16 (finale) preview: "The First Day of the Rest of Your Life"
MORE STORIES:
MEET IBT NEWS FROM BELOW CHANNELS