US, Australia Strengthen Partnership Against China's 'Destabilizing Actions' Across Indo-Pacific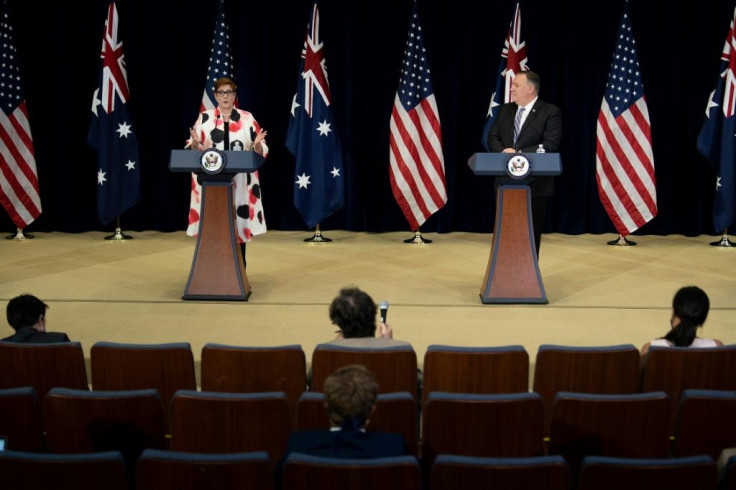 The United States and Australia are teaming up to counter what it calls China's "destabilizing actions across the Indo-Pacific." The two nations are strengthening its partnership with other nations to secure the region.
In a dialogue between the two nations this week, aptly called "two plus two", US Secretary of State Mike Pompeo and Defense Secretary Mark Esper met with their Australian counterparts, Australian Foreign Minister Marise Payne and Defense Minister Linda Reynolds, to discuss their growing concern over Beijing's claim on the Indo-Pacific seas among others.
The two-day gathering in Washington is the 30th version of the Australia-United States Ministerial Consultations (AUSMIN), Nikkei Asian Review noted.
During their meeting, the two nations expressed their concern over China's maritime claims on parts of the South China Sea which, based on United Nations Conventions on the Law of the Sea, are not within China's territorial waters.
"In line with the 2016 decision of the Arbitral Tribunal, they affirmed that China's maritime claims are not valid under international law," the joint statement released by both camps said.
"[China] cannot assert maritime claims in the South China Sea based on the 'nine-dash line,' 'historic rights,' or entire South China Sea island groups, which are incompatible with the United Nations Convention on the Law of the Sea."
Payne also noted that the US and Australia will be working more closely with other allies while building "new groupings" to secure the region. These include the Five Eyes (US, UK, Australia, Canada and New Zealand), ASEAN, and the Trilateral Infrastructure Partnership (US, Japan and Australia).
"Last week, five Australian warships joined the USS Ronald Reagan aircraft carrier strike group and a Japanese destroyer in conducting a trilateral naval exercise," US Defense Secretary Esper also noted.
"These exercises not only bolster interoperability, but also send a clear signal to Beijing that that we will fly, we will sail, and we will operate wherever international law allows."
The strengthened partnership between the two countries comes as both the US and Australia face deteriorating relations with China, further corroded by the spread of COVID-19 believed to have originated in Wuhan. The US has repeatedly blasted the East Asian country for how it has handled the virus and its information dissemination. Australia has also asked for an independent investigation into the origins of the virus and Beijing's initial response to it.
MEET IBT NEWS FROM BELOW CHANNELS