'Supernatural' Season 11 spoilers: Jared Padalecki and Jensen Ackles tease Sam and Dean's brotherly bond, God and The Darkness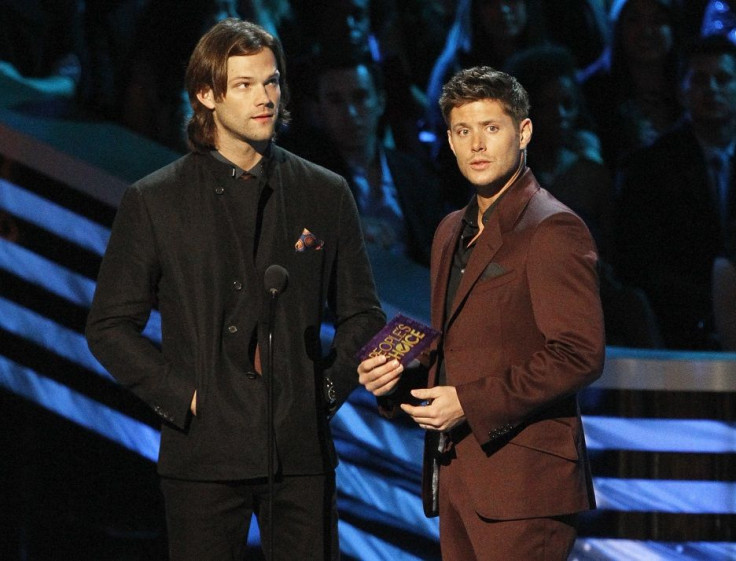 The Winchesters must get all the help they can when it comes to defeating God's sister Amara/The Darkness (Emily Swallow) in "Supernatural" Season 11. Actors Jared Padalecki and Jensen Ackles, who portray "Supernatural" characters Sam and Dean Winchester, respectively, weigh in on the possibility of God helping them defeat the pre-biblical threat that was set free in the finale of "Supernatural" Season 10. [Spoiler Alert!]
Sam has been praying to God for help since the premiere episode of "Supernatural" Season 11. However, Sam's prayers have not yet been answered because he still has no idea how to stop Amara/The Darkness from fulfilling her plans, and he also continues to have visions of Lucifer's cage.
It is still unknown if God will side with the Winchesters in their battle against The Darkness or not. Padalecki has revealed in an Entertainment Weekly (EW) interview that it is possible for God to actually get in the way of Sam and Dean's plan of fixing the damage they have done.
"But no matter what, I think the boys are committed to righting this wrong. So with or without God's help, the boys are going to try and stop the Darkness," Padalecki shared. However, Ackles thinks that the Winchester brothers cannot defeat Amara/The Darkness without God's help.
Ackles explained that Amara is currently assessing God's creation. Metatron (Curtis Armstrong) revealed to Castiel (Misha Collins) in "Supernatural" Season 11 episode 6, titled "Our Little World," that God had to betray and sacrifice His sister to accomplish His creation.
In the same episode, Amara told Dean that her plan is to settle an old score. "I think the very famous line of her so far is that 'He is the light and I am the opposite of that, I am the Darkness.' What's interesting is, I'm not sure if that's inherently bad or if that actually could be something that is beneficial," Ackles shared.
"Supernatural" Season 11 is currently setting up Amara/The Darkness as the ultimate villain, but Ackles teased that there is a possibility that she may not be really evil, and the CW TV series will try to play with that story angle a little bit.
Meanwhile, some "Supernatural" fans are wondering if Dean's bond with Amara/The Darkness because of the Mark of Cain will result in another conflict between the Winchester brothers.
Padalecki shared in EW's Spoiler Room report that "Supernatural" Season 11 will witness changes in Sam and Dean's brotherly bond and they will begin to right their wrongs against each other. Padalecki added that Sam and Dean are also starting to remind each other that they care about each other and that they will be there for each other. They are reportedly both sorry for what happened in the past.
"Supernatural" Season 11 airs on Wednesday nights at 9/8c on the CW Network. "Supernatural" Season 11 will return from a brief hiatus on Dec. 2 with Sam's imaginary friend from childhood in episode 8 titled "Just My Imagination."
Contact the writer at feedback@ibtimes.com.au, or let us know what you think below.
MEET IBT NEWS FROM BELOW CHANNELS