Southwest Airlines plane's engine explodes mid-flight, woman partially sucked out of window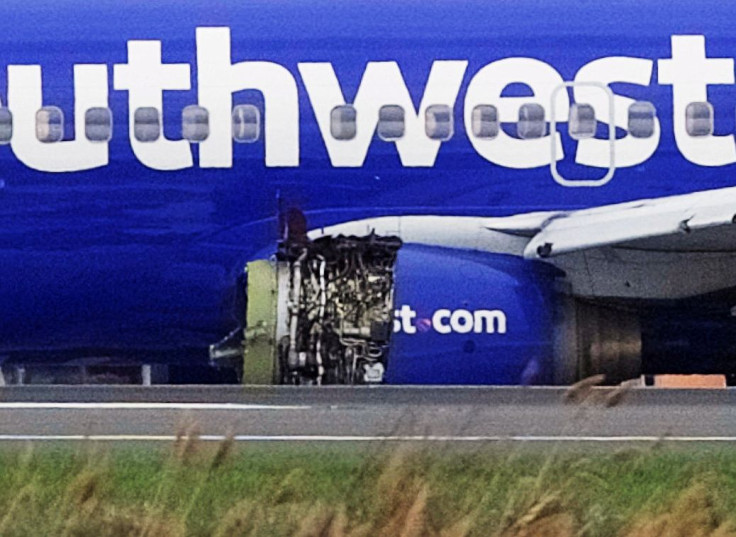 A passenger died and seven others were injured after a Southwest Airlines plane's engine exploded mid-air early Tuesday morning. The Boeing 737-700 encountered jet problem just 20 minutes after leaving the LaGuardia Airport in New York.
The Southwest Flight 1380, which was en route to Dallas, was carrying 144 passengers and five crews. With its engine burning and fuel leaking, it made an emergency landing at Philadelphia International Airport around 11:23 a.m. (1:23 a.m. Wednesday AEST).
Flight Aware's altitude-tracking tool says the plane was flying about 32,500 feet when the incident happened. It then continuously descended 3,000 to 1,000 feet per minute until it safely landed in the airport.
According to surviving passengers, a woman was partially "drawn out" of the plane before being pulled back in by the other passengers. She was sitting right next to the window that exploded. She was given CPR immediately by "several heroic gentlemen" who pulled her back in, passenger Eric Zilbert told NBC Philadelphia.
Passenger Marty Martinez filmed a grainy Facebook Live post during the commotion on the plane, saying, "Something is wrong with our plane! It appears we are going down. Emergency landing!"
Robert Sumwalt from the National Transportation Safety Board said one passenger died, but it's not clear whether it was the woman who got partially sucked out of the window. Seven other passengers suffered minor injuries and were treated on the tarmac.
Sunwalt said the NTSB is now investigating the incident as an engine failure. The flight recorders have been secured and will be returned to the NTSB's headquarters.
"Safety is always our top priority at Southwest Airlines, and we are working diligently to support our customers and crews at this time," Southwest Airlines said in a statement.
MEET IBT NEWS FROM BELOW CHANNELS