Shia LaBeouf Looks 'Tense,' Actor Steps Out For The First Time After Paedophilia Controversy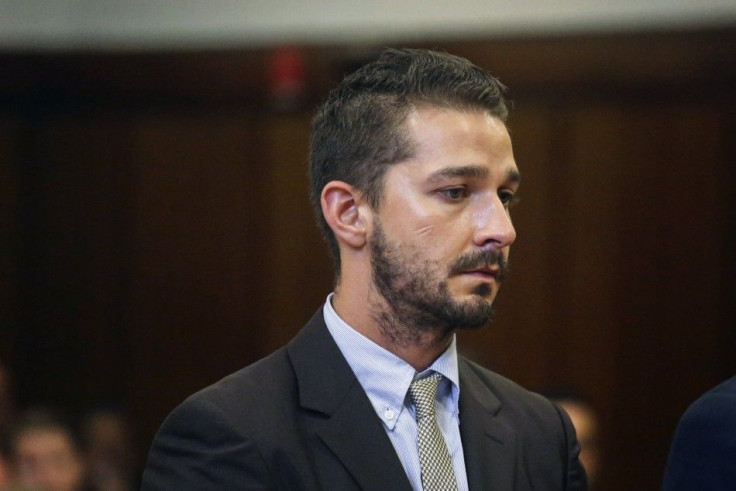 Shia LaBeouf was spotted out for the first time following the paedophile controversy he was caught in for appearing with a 12-year old dancer in Sia's music video. The actor was photographed reportedly looking anxious.
According to Mirror UK, Shia was spotted in Los Angeles on Tuesday, Jan. 13, looking rather "tense" after grabbing a cup of coffee. The actor was dressed casually in a blue Dodgers sweatshirt, white t-shirt and jeans, as seen in the photo shared on the site. However, what's reportedly noticeable is Shia's "scruffy look." Based on his thick stubble, it supposedly seems like the 28-year old hasn't shaved for days following the paedophile controversy.
"Shia LaBeouf appeared downcast as he stepped out for the first time since being embroiled in a video paedophile controversy," Mirror UK wrote.
Sia's video for her song "Elastic Heart" features the actor and 12-year old dancer Maddie Ziegler dressed in nude body suits as they danced inside a giant bird cage. According to MTV News, the video is a representation of Katniss and her competitors while they were in the arena in "The Hunger Games: Catching Fire." Sia reportedly co-directed the MV and even Shia LaBeouf was allegedly also involved in the directing.
However, netizens immediately took to social media to criticise the video. One Twitter user called it "weird and gross" while others supposed Sia could have chosen a different dancer. According to Daily Mail, viewers thought the choreography was too suggestive in a sexual way. One Facebook user claimed the video was "disturbing" and said, 'I understand that everyone thinks this is a piece of art, but I find it a little too sexual because why is a full grown man in a cage with a 12 year old and both wearing nude suits and making funny faces at each other."
However, Sia has since addressed the criticisms. She has allegedly already anticipated the paedophilia controversy but thought only Maddie and Shia LaBeouf were "two of the only actors" she felt "could play two warring 'Sia' self states." Likewise, Maddie Ziegler had also defended the singer's "Elastic Heart" music video, saying "It's a step ahead." Despite the criticisms, the 12-year old admitted she had fun filming the video. As for Shia LaBeouf, the "Transformers" actor has been mum following the criticisms and has yet to publicly comment on the paedophilia controversy.
For questions/comments regarding the article, you may email the writer at t.diente@IBTimes.com.au
Source: YouTube/SiaVEVO
MEET IBT NEWS FROM BELOW CHANNELS