'Rogue One: A Star Wars Story': Jyn Erso toys ready to set market on fire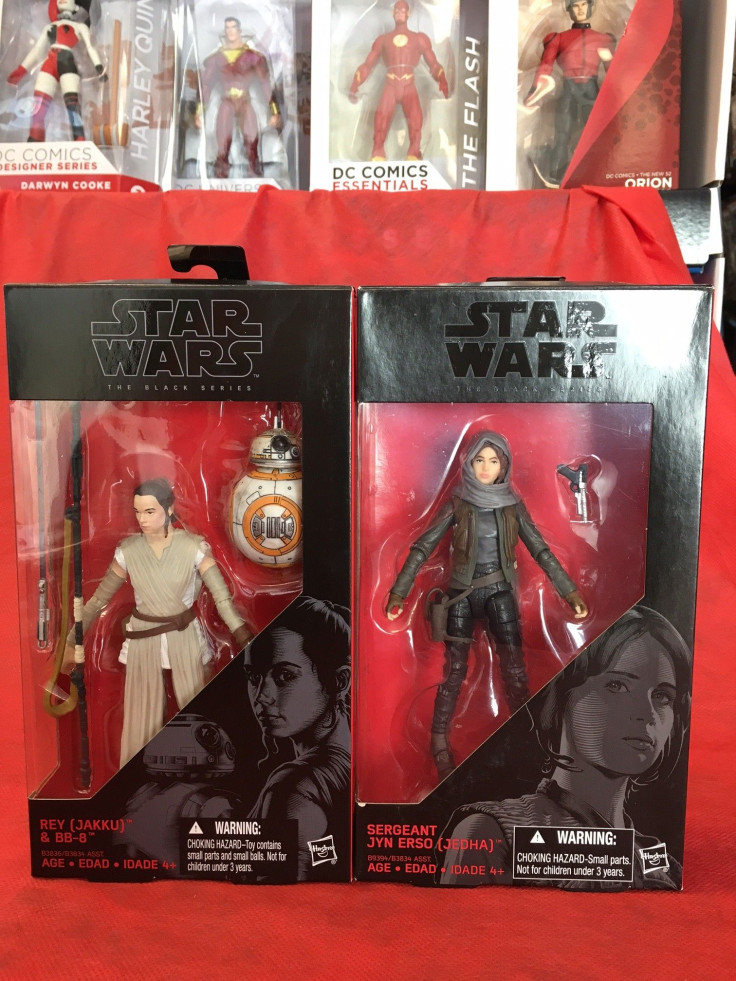 "Rogue One: A Star Wars Story" toys are selling like hot cakes, and online retail giants like eBay are gearing up to meet that demand. Manufacturing companies have enough stock of Jyn Erso action figures, so kids and collectors will not be disappointed while shopping during this holiday season.
According to the statistics of eBay as of Nov 11, the toy line of Gareth Edwards' film was selling 216 items per day. This makes it one of the hottest toy lines in the market this year. The recently released "Dr. Strange" has 122 items from its line sold every day.
The demand for the upcoming "Star Wars" film is not as big as the craze for "The Force Awakens" merchandise. Back in 2015 the J.J. Abrams' movie saw 1029 items from its line sold every day. But, one problem at that time was the manufacturing companies had no way to forecast the demand for the Rey toys, and many of the fans had to run pillar to post to get their hands on the action figure.
The manufacturing companies are prepared this time around. There is a recognition that the demand has been growing for female action figures in the market.
"If you look at Marvel's Black Widow, Gamora from 'Guardians of the Galaxy' or Daenerys from 'Game of Thrones,' as well as all of the 'Walking Dead' characters that received the action figure treatment, there hasn't been any shortage of affordable figures – or even high-end collectibles, for all these fantastic female characters. And, there are more on the way with Wonder Woman, Supergirl, Captain Marvel (Carol Danvers), just to name a few," Randy Garcia, Owner and President of Man of Action Figures explained.
"Rogue One: A Star Wars Story" also has a female lead in Jyn Erso.
"I don't have specific numbers, but I am sure that Hasbro, the company that it is, will not repeat the same mistake of under producing figures on the market for their lead character, Jyn Erso, in a new 'Star Wars' film. The fact that right now several manufacturers and distributors already have Jyn Erso figures in stock and ready to ship tells you that production has really stepped up," Garcia said.
But, the availability of the product in the market is not enough. The toys and the merchandise should be easy to find and buy. That's where companies like eBay come in.
"Today's reality is that people have more choice and ways to shop than ever before, but far less time. In a national survey we conducted, we found the overwhelming amount of Americans were unable to find the perfect gift for someone last year (82%), and that number was even higher for Millennials at 91%. More and more consumers are looking for help in finding that perfect gift while also looking to simplifying the overall shopping experience," Hal Lawton, SVP, North America at eBay Marketplaces said.
"Our strategy for this holiday season is to help consumers solve the challenge of finding the perfect gift for their friends and families. We know how hard it is for consumers to find the right gift, so we launched a Holiday Hub in early November, as well as a social campaign called #GiftGoals that uses thought-provoking questions that encourage shoppers to find gifting inspiration through live conversations," Lawton said.
"Rogue One: A Star Wars Story" is set to be released on Dec. 15 in Australia and on Dec 16 in the US. The movie franchise is once again set to dominate the market place this holiday season.
MEET IBT NEWS FROM BELOW CHANNELS