'Rocket League' major update to bring Quick Chat options, stats tracking coming in June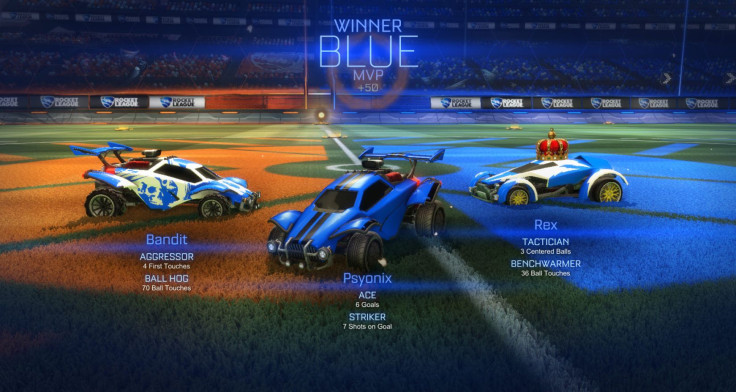 "Rocket League" players will want to look forward to the June update. A couple of new features are coming down nicely, and these include quick-chat options and post-game celebrations.
Developer Psyonix has confirmed that it will be expanding the Quick-Chat option in the game. Quick-Chat is the ability to give short text commands or messages to communicate when a match is ongoing.
There will now be 27 new Quick Chats coming with the June update, GameSpot reported. This will not make it harder to communicate, however, since the D-pad instructions can be customised to four statements when accessing the D-pad.
There are eight phrases coming to the list, so fairly frequently used phrases like "gg" or "Need Boost!' no longer need to be typed up. Other new chats to look forward to include "Holy cow!' "Savage!' "Oops!" "Whew" and "Siiiick!'
Also coming in June are post-game highlights, to let players enjoy all the excitement after a great win. With the update, cars can now jump, boost and spin on the post-game spotlights screen. Seen in the official blog update, there's a GIF that shows how this mechanic will look like.
Alongside that, there will also be stats tracking post-game, so that each member of the winning team will be able to see how they fared. There will even be titles to match the stats that a specific player contributed to a match.
"For example, if you boxed out a lot of Battle-Cars in Hoops mode, the total number of cars bumped stat could be your most prominent, giving you the intimidating "Enforcer" title. Alternatively, if you set up a lot of shots for teammates by centering the ball, you can nab the "Tactician" title on the Post-Game Spotlight screen," said the developer on the blog.
There are more than 20 titles that players can bask in in the Post-Game Spotlight screen. Among these include the Aggressor for most First Touches, the Prodigy for scoring three or more goals and the Speed Demon for most Boost Pickups.
Of course, even with the winning team, not everyone may have contributed to the winning streak. There are also titles, such as the Traitor who scores an own goal and Benchwarmer for having the fewest Ball Hits.
MEET IBT NEWS FROM BELOW CHANNELS