Putin Admits Ukraine's Possible NATO Membership Poses 'Threats To Russia,' Makes World 'More Vulnerable'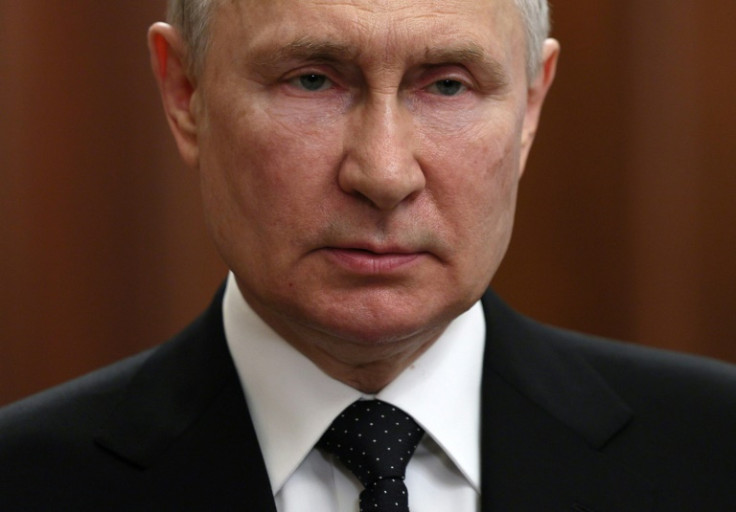 KEY POINTS
Putin claimed in an interview he invaded Ukraine due to its bid to join NATO
The Russian president said he doesn't see "anything good" about Ukraine joining the transatlantic alliance
Putin insisted that Ukraine has the right to ensure its security, as long as Russia is not threatened
Russian President Vladimir Putin continues to lash out at Ukraine's bid to join the transatlantic military alliance.
In an interview with Russian state media, Putin said Ukraine's potential membership in the North Atlantic Treaty Organization (NATO) poses "threats to Russia's security," noting that Moscow has repeatedly protested against it.
"One of the reasons for the special military operation is the threat of Ukraine joining NATO. I am sure that it will not increase Ukraine's security, but will instead make the world much more vulnerable and will lead to further tension in the international arena," Putin said, according to Russian independent news outlet Meduza.
"That's why I don't see anything good about this. Our position is well-known and formulated long ago," said the Russian president," the Russian president added.
Putin said that Ukraine "has the right to ensure its security," as long as it doesn't threaten Russia's security.
He also insisted that Russia does not oppose Ukraine's discussions with NATO and the G7, provided that Russia's security "is ensured."
Earlier this week, Ukraine's hopes for a fast-tracked accession to the military alliance were dashed at the NATO Summit in Vilnius, Lithuania.
NATO Secretary General Jens Stoltenberg told reporters Tuesday that all alliance leaders agreed to remove the requirement for a "membership action plan" for Ukraine's bid, making it a "one-step path."
But NATO leaders said in their communique that they would only invite Ukraine to join the alliance "when Allies agree and conditions are met."
Even President Joe Biden, Ukraine's strong backer in its war against Russia, said the beleaguered country cannot join NATO yet.
Biden argued that what's important is that Ukrainian President Volodymyr Zelensky "has the commitments" from NATO leaders that his country would join the alliance soon, NPR reported.
A fuming Zelensky assailed NATO leaders' decision, calling it "unprecedented and absurd."
"It's unprecedented and absurd when a time frame is set neither for the invitation nor for Ukraine's membership. While at the same time, vague wording about 'conditions' is added even for inviting Ukraine. It seems there is no readiness to invite Ukraine to NATO or to make it a member of the Alliance," Zelensky said, Euro News reported.
White House National Security Council spokesperson John Kirby argued that Ukraine must implement reforms before joining NATO, including the rule of law, good governance and political reforms.
Kirby's views were echoed by German Defense Minister Boris Pistorius, who said that there are "certain circumstances" needed before Ukraine can be welcomed into the alliance, Politico reported.
Despite the uncertainty of Ukraine's path to NATO membership, some member states vowed to provide additional security assistance to Kyiv.
Time Magazine reported that Ukraine is expected to receive Storm Shadow long-range cruise missiles from France and a $770 million military package from Germany. Eleven other NATO states also committed to training Ukrainian pilots to fly U.S.-made F-16 fighter jets.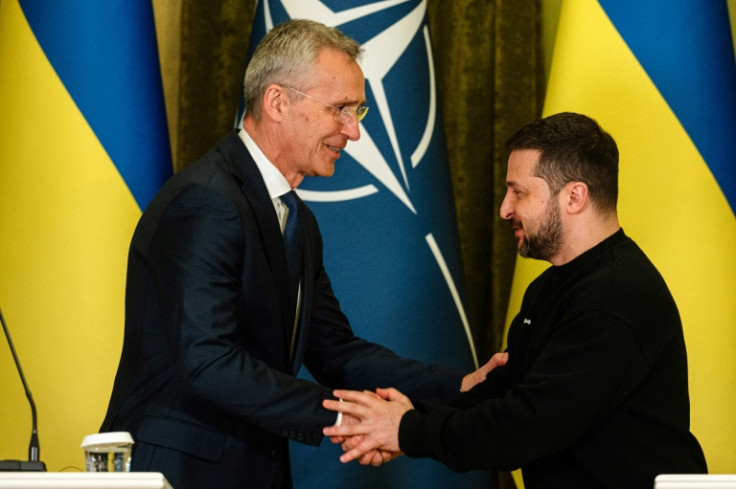 © Copyright IBTimes 2023. All rights reserved.
MEET IBT NEWS FROM BELOW CHANNELS