Prime Minister John Key In Europe To Attend World Economic Forum: Meets British PM David Cameron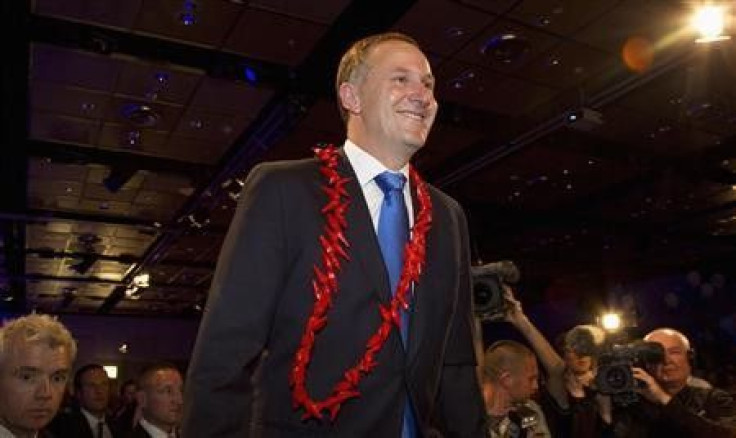 Prime Minister John Key arrived in European on Sunday with London as the first port of call. The PM is on a week-long visit to Europe to meet government leaders besides attending the World Economic Forum in Davos. In London, Mr Key met British Prime Minister David Cameron.
Meeting with Cameron
According to the New Zealand Herald report, Mr Key and his wife Bronagh joined a private family celebration with Mr Cameron at Chequers retreat, which is some 50 kms away from London before they started the formal talks. According to the report, Mr Key and Mr Cameron talked about New Zealand's potential contribution to the fight against ISIS in Iraq. But Mr Key said a decision was not imminent. The Charlie Hebdo attacks and terrorism also figured in the 45-minute discussion. Chequers is the official country retreat of the British prime minister. Both Mr and Mrs Key were invited to plant an oak tree on the estate, which is customary for visiting leaders.
Mr Key will travel to Bosnia to chair an executive meeting of the International Democrat Union, an organisation representing more than 50 centre-right political parties. Mr Key was elected the chairman of the IDU in 2014, replacing former Australian Prime Minister and Liberal leader John Howard. The prime minister will also meet the president and the prime minister of Bosnia and Herzegovina, reported TV. Nz
World Economic Forum
Mr. Key will wrap up his European visit at Davos in Switzerland after attending the annual World Economic Forum. The WEF 2015 is being hosted with the theme "The New Global Context" and will draw more than 2,500 leaders, including political and business heavyweights from across the world. This year, 2015, the WEF is being held from Jan 21 to 23. The prime minister is keen on the Davos summit, which has alraedy been described by Mr Key as an ideal platform to "engage with key international influencers on a wide range of issues, having global importance." New Zealand Trade Minister Tim Groser will also join the PM in Davos. He will attend ministerial meetings and meet with ministerial counterparts at the Economic Forum, reported Yahoo News Nz.
(The writer can be reached with feedback at kalyanaussie@gmail.com)
MEET IBT NEWS FROM BELOW CHANNELS