Price Of Economic Growth: Rising Air Pollution Is Choking Indian Cities And Killing People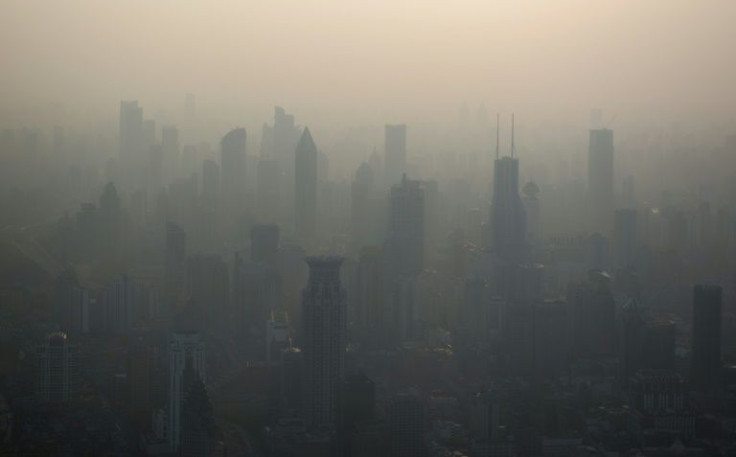 India has become the world's fastest-growing economy, but air pollution--the bane of industrial societies--is choking its cities and taking a huge toll on its people's health. And despite years of efforts, the country's attempts to improve air quality are not making much of an impact and healthcare experts are raising alarm about the impact of toxic air.
The number of smog-filled cities in India continues to rise with each passing year. More than 130 cities now face pollution levels below national standards, according to a report by the Center for Research on Energy and Clean Air.
Capital Delhi is now one of the most polluted cities in the world. Financial hub Mumbai, although near the sea, has also been hit hard by pollution and is witnessing a surge in health issues ranging from throat infection and dry cough to breathing difficulties among citizens.
Air quality in Bengaluru, India's tech capital, went downhill last October, escalating health concerns among residents.
"It is very obvious that the bulk of air pollution is caused by construction activities, vehicles, and manufacturing or industrial activities, and there is no policy in the direction of reduction, mitigation or discouragement of any of these," civic activist Sandeep Anirudha said in a critique of the government's efforts.
Air pollution--a slow killer
Air pollution is reducing the life expectancy of people in Delhi by 10 years. The Air Quality Life Index indicates that particulate matter (PM) pollution reduces life expectancy more than communicable diseases, the World Economic Forum said in a report last year. Particulate matter are microscopic solids or liquid droplets that can be inhaled by humans and cause serious health issues.
While there has been a decline in Covid-19 cases in Indian cities, a rise in cases of respiratory and heart issues are increasing the strain on the healthcare system. Children and the elderly aged 60 and above are more likely to have health complications.
Sudden deaths due to heart attacks have increased in India due to long-term exposure to air pollution, particularly PM2.5, according to a study published in Jama Network Open.
Researchers found long-term PM 2.5 exposure is directly linked with an increased risk of acute myocardial infarction (AMI). Experts suggest that tiny air pollutants can cause narrowing of the heart arteries, which can result in heart stoppage.
"My asthma has intensified after breathing the air pollutants over the past few months," Kartik Verma, a resident of Delhi-National Capital Region, told International Business Times. "The air around my residence is continuously degrading, thanks to the incessant construction and vehicular pollution in the area. Doctors suggest if I don't take immediate precautionary measures and change my surrounding, I may be at risk of severe lung and heart issues."
India's polluting industries
Booming industrialization, rising urbanization and associated commercial activities are also contributing to air pollutant emissions and poor air quality in the country.
More than half, or 51%, of air pollution in India is the result of industries, as per a research analysis. More than 6% of India's industries reportedly don't comply with environmental standards, threatening harmful emissions and discharge of effluents, as per Times of India.
Dr. Uday Sanglodkar, a senior consultant hepatologist at Mumbai's Global Hospital, highlighted how rampant construction and traffic fumes have been impacting the city's air quality. He said long-term exposure to smoke and pollution is weakening the lungs and other organs of growing children and pregnant women. There is a rise in cases of chronic and persistent coughs, alongside the annual flu season, across the city.
"It makes us think how pollution is contributing to health concerns among people of all age groups," Dr. Sanglodkar told International Business Times.
Even as the government of India has implemented various policy measures to reduce industrial emissions, the extent to which these measures are helping remains debatable. In recent years, various ministries have implemented programs to promote clean technologies in key sectors, such as the National Electric Mobility Plan 2020 and energy efficiency labeling for energy-intensive home appliances.
The most significant measure was the announcement of the National Clean Air Program in 2019, which mandates 122 cities with high pollution levels to design city-specific action plans to reduce PM2.5 emissions by 20-30% by 2024 compared to 2017 levels. While the policy was announced with high expectations, its ground-level implementation has remained shaky. The plan lacks a concise funding strategy as budgetary allocations have remained stagnant and inadequate.
Looking at the regional level, Bruhat Bengaluru Mahanagara Palike, Bengaluru's civic body, for instance, allocated $54.5 million to implement fresh measures aimed at controlling the rising AQI levels in the city. And the Delhi government is planning an extensive system, including anti-smog guns to water sprinklers mounted on mini-trucks, to control pollution on roads and construction sites in the city this summer.
The effectiveness of these measures will also depend on various factors, including the willingness of the citizens to bring and adopt the required changes to reduce air pollution at the home level.
Dr. Sanglodkar suggested certain preventive measures to tackle the harmful effects of pollution on health. Wearing masks in outdoor spaces and avoiding smoking are among them.
"The government must take rigorous measures to curb construction activities and limit the emissions from vehicles to put rising air pollution under check. Also, there is a need for creating meticulous awareness among the general public about the need to take active participation in minimizing the impact of air pollution," he added.
Same story across the globe
A recent study released by Lancet Planet Health said nearly everyone, approximately 99.82% of the global population, is currently exposed to unhealthy levels of harmful air pollutants (particulate matter 2.5 or PM 2.5). The findings of the study published Monday highlight the growing need for public health officials and policymakers to focus on measures to curb leading sources of air pollution. The study confirmed only 0.001% of the world's population breathes considerably acceptable air, Japan Times reported.
As the fifth-largest global mortality risk factor, air pollution has emerged to be a prominent public health concern in other major economies, including China and U.S. Harmful air pollutants contribute to millions of premature deaths and other health hazards every year in countries around the world. It has caused about one-tenth of global deaths, with the overall death toll exceeding 5 million. Some 21% of China's health concerns were linked to air pollution due to rapid industrialization, which is 8% higher than the U.S. PM 2.5 has been identified as the main cause of smog in the U.S., which is being inhaled by people every day, raising the risk of lung and heart disease.
Daily pollution levels have increased in Australia, New Zealand and Latin America, with more than 70% of days globally surpassing safe levels.
Related Articles
MEET IBT NEWS FROM BELOW CHANNELS