Plaid Shirt Guy speaks up on his viral reactions at Trump rally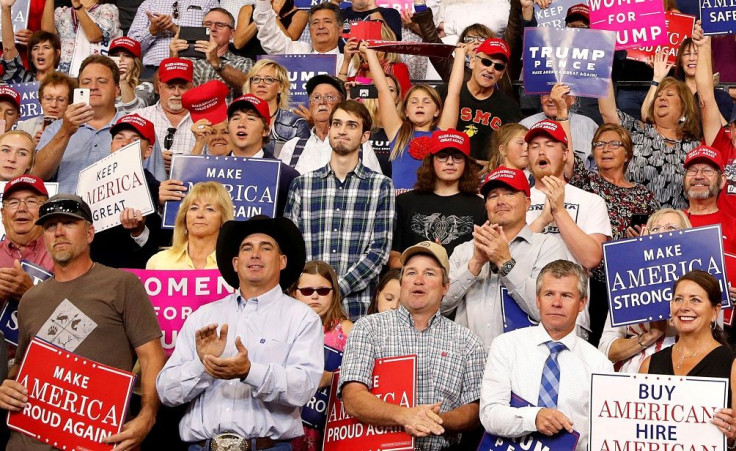 A high school student who has become viral online for his animated facial expressions during Donald Trump's rally has been identified. Dubbed the Plaid Shirt Guy, Tyler Linfesty has revealed how he got to stand directly behind the US president at the Montana rally, and what was done to him after being told he was being replaced.
Last week, Linfesty, 17, attended the rally in Billings with two of his friends. He was placed almost directly behind Trump, allowing him to be seen on camera while Trump was speaking to his base. There was nothing new about the American leader's speech at that time; he was still screaming about fake news, Hillary Clinton, and his usual gripes. However, the rally has since become viral, not because of what Trump was saying, but because of how Linfesty was reacting while Trump was speaking.
Non-Trump supporters have lauded the as yet-unnamed man in plaid shirt for his apparent questioning expressions. While the people around him were enthusiastically cheering for the president, Linfesty was instead pulling different facial expressions, most of which appear he was sceptical and unimpressed with what Trump was saying.
When Trump was boasting of winning the electoral college — which he said was like running a mile while winning the popular vote, like Clinton did, was like only running a 100-yard dash — Linfesty can be seen in videos mouthing, "What?!"
He also appeared to have mouthed, "You have?!" when Trump claimed he has "picked up a lot of support" for his deep state conspiracy theory.
His less-than-eager reaction to Trump has since earned him praises online. His identity was still unknown then, but social media commenters have dubbed him Plaid Shirt Guy because of his stand-out shirt pattern.
But contrary to what people thought, Linfesty said he didn't deliberately go to the rally to troll Trump. He told the Daily Beast that he signed up to go to the rally and he was randomly chosen to go. His winning ticket allowed him to shake hands with Trump during a photo opportunity. He was also placed in the stands with two friends.
The high school student said he did not plan to look disbelieving on camera to gain attention.
"When he said something crazy, I thought, 'Wow that's crazy,' and when he said something I thought was reasonable, I thought, 'Well, that's reasonable,'" he told the publication. "I took each issue individually."
But his animated expressions didn't seem to impress rally organisers. A while later, a woman in a black dress approached him to say she was going to replace him. He told CNN that he knew he would be kicked out because the rally-goers were told beforehand to clap and appear enthusiastic during the speech. Soon, his friends, who were standing on either side of him, were also replaced.
He said Secret Service men took him backstage and told him to wait. He waited about 10 minutes before he was told, respectfully, to leave.
The Daily Beast said Linfesty, although not visible, was wearing a sticker for the Democratic Socialists of America during the rally. The DSA is a political organisation that includes many upstart leftist candidates challenging Democratic lawmakers for their seats.
MEET IBT NEWS FROM BELOW CHANNELS