'Outlander' season 3: Why episode 9 was titled 'Doldrums'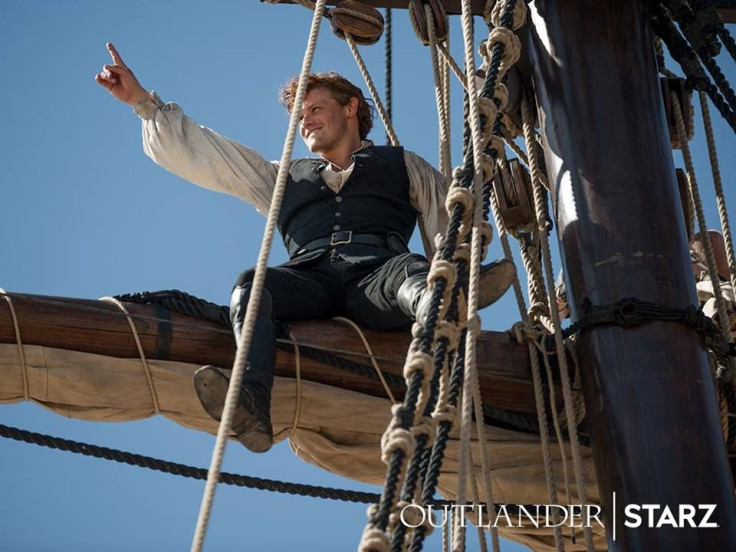 The reason why episode 9 of "Outlander" season 3 was titled "Doldrums" was not just because the ship Artemis hit the doldrums on the high seas, but also because the characters did so as well. Producers Ronald D. Moore, Matthew B. Roberts, and Toni Graphia shared this and other insights on the show. A set of behind-the-scenes pictures have also been released online. The following article contains spoilers from episodes that have already aired.
In the video (see below), Roberts explained how the characters stopped moving forward in episode 9. There was an impasse from Jamie (Sam Heughan) on the question of Fergus' (César Domboy) marriage to Marsali (Lauren Lyle). The producer said there was "no wind" in both the sea and in the relationship of various characters, thus making the title appropriate.
All scenes related to the sea voyage and Jamaica were filmed in South Africa. The "Outlander" crew used three ships built for the "Black Sails" TV series, another popular show on Starz that had just concluded at that time. The Artemis is the only ship made specifically for the time travelling show.
One addition in the series that fans of Diana Gabaldon's books were not expecting involves superstitions. Moore explained that there was plenty of it during that time, with different ships having their own set of beliefs. Roberts added that they could have done a full episode just on the sheer amount of superstitions.
The voyage scenes were filmed on a ship that was set on land. A thousand things can go wrong on the sea with so many cast and crew members crammed inside a ship. Green screens were put up across the boat; the water would be added via computer graphics. Pictures of the set with Heughan and Caitriona Balfe (Claire) have been posted on Outlander Community website.
Credit: Starz/ YouTube
MEET IBT NEWS FROM BELOW CHANNELS