'Outlander' season 3: New pictures from the set; Extras try to hide costume with black and blue coats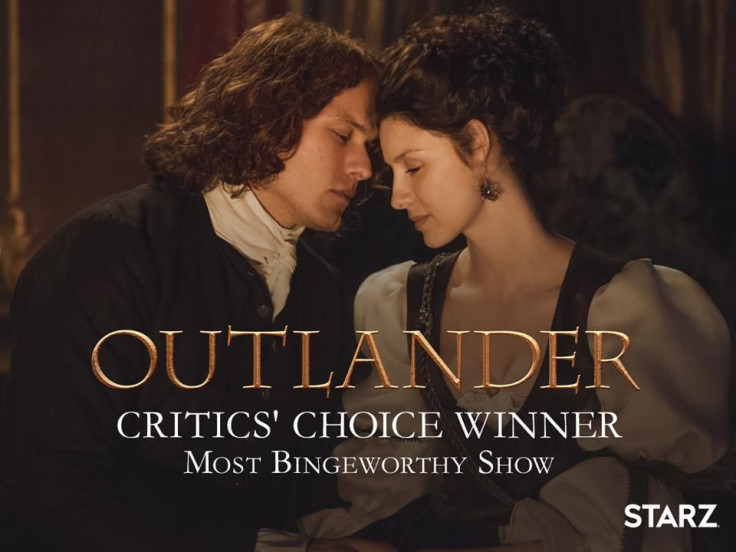 Filming of Scotland scenes for "Outlander" season 3 has been completed but filming continues in the country. The cast and crew were recently filming a few interior scenes, and some of the pictures from the set have surfaced online. Cast members Sam Heughan and Caitriona Balfe were also photographed as they made their way to the set.
Filming is currently taking place at Signet Library in Edinburgh, Outlander TV News reports. The pictures posted on the website show some of the extras on their way to the set. The actors hid their costumes by wearing a black or blue coat, which is normal practice for all big budget projects in Hollywood. The fans, however, can see the different hairstyles that the extras did not cover up.
Heughan (Jamie) and Balfe (Claire) were photographed in their respective cars. Cast members Cesar Domboy (adult Fergus) and Lauren Lyle (Marsali) were also at this location to film their scenes.
Over half the episodes of "Outlander" season 3 have already been filmed. There will be a total of 13 episodes this time, just as last year. The production is in its last phase of filming in Scotland. All scenes depicting the country have already been filmed. Any outdoor scenes in the country filmed now will be standing in for locations other than Scotland on the show.
After filming in Scotland wraps, the production will shift to South Africa. Heughan and Balfe recently filmed a harbour scene. The sea voyage on a ship will be shot in South Africa, where Starz already has constructed ships for its other popular pirate show "Black Sails," which is currently airing its last season.
Jamie and Claire will be travelling to Jamaica. They have already filmed the highly anticipated reunion scene, and they have also finished a few scenes with some of the new cast members who are joining the show this year.
The plot will focus on Jamie's life after the Battle of Culloden and Claire's life with her husband Frank in Boston, from the time when they first arrive in the US. The couple will also welcome a new baby into the family and try to reconnect with each other.
Starz is yet to announce the release date of "Outlander" season 3. The previous season was released on April 9, and the very first season aired on Aug. 9. The trailer of the new season will be released after the premiere date announcement.
MEET IBT NEWS FROM BELOW CHANNELS