'Outlander' season 3: Maril Davis manages upset fans like a pro; Ugly Christmas Jumper contest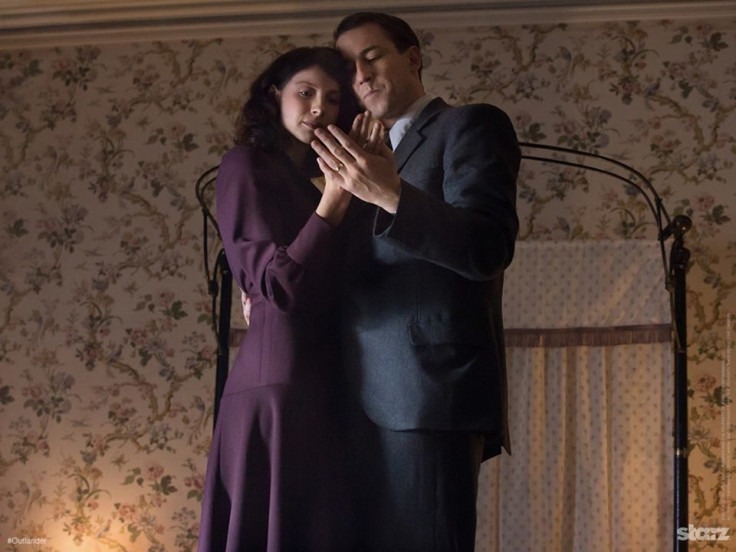 Co-executive Producer Maril Davis had to douse some flames online after a few fans were upset with the Frank and Claire tease of "Outlander" season 3. Meanwhile, the filming continued on the set, and the crew members also had an Ugly Christmas Jumper contest at the office.
It all started with a fan expressing concern about the Frank (Tobias Menzies) and Claire (Caitriona Balfe) picture released online. Some fans were concerned that most of the next season will be focussed on the flashback in Boston, and that they will not get enough of Jamie (Sam Heughan) and Claire scenes. Davis then started the discussion with asking fans why they think Diana Gabaldon introduced Frank in her story.
Davis pointed out to the fans that Claire goes back to Frank through the magical stones in Cragh na Dun. So, that part of the story of her with her first husband has to be told. The only other option is to focus mainly on Jamie's storyline in "Outlander" season 3, and ignore the things Claire went through in Boston.
Frank is an essential part of the story, Davis pointed out. She added that without this it will not be possible to tell Claire' side. The producer also pointed out that the concerned fans don't know how many episodes Frank is featured in this time around. One fan conceded that Menzies' character is still relevant, but told Davis that she will be giving her a "side eye" with a "stinky face" till the character dies on the show.
The flashback in Boston is expected to be mostly gloomy for Claire, but Davis revealed that it is not all black and white; their will apparently be moments of happiness and great sorrow for both Jamie and Claire during their time apart. Another fan pointed out that the painful flashback will make the reunion of Jamie and Claire that much more sweater.
Meanwhile, the production team filmed the fifth episode recently. They are not shooting in order at the moment and may have completed about seven episodes already.
The crew members also had some fun at the office to celebrate Christmas. Davis was the judge for choosing the best trailer decoration, which was won by the Ad department, and the Ugly/stylish Jumper contest.
The cast and crew will be heading into a short break for Christmas. The producers will also have to start planning for season 4, which begins production right after filming wraps for "Outlander" season 3.
Credit: Twitter/ Maril Davis
Credit: Twitter/ Maril Davis
Credit: Twitter/ Maril Davis
MEET IBT NEWS FROM BELOW CHANNELS