One Nation: Support for Pauline Hanson's party rises, Coaltion's primary vote dips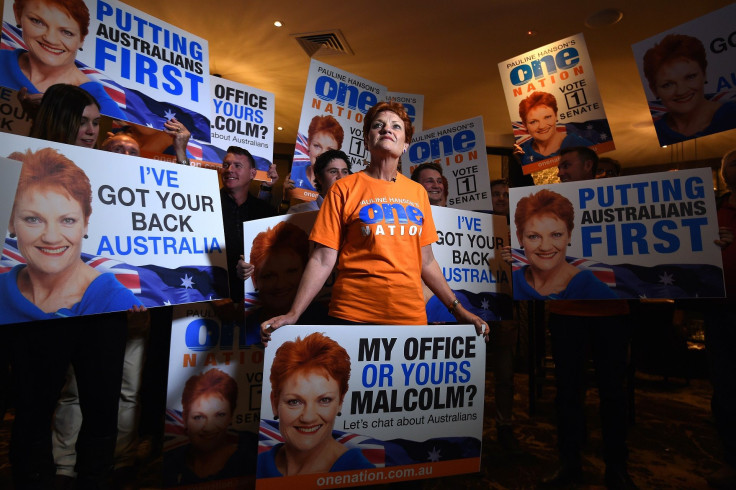 Senator Pauline Hanson's One Nation bagged eight percent of the national primary vote in the recent Newspoll survey. When asked about the prospect of becoming the prime minister of Australia, she said it would be a "privilege and honour."
Nevertheless, she claimed the suggestions of her eying for the job stem from "media hype." It would be a long time until she was in a position to consider the role, she added. At the TODAY Show, when asked how "Prime Minister Pauline Hanson" sounded to her, she replied by saying "Oh rubbish."
"Six months I've been in the Senate I'm so happy to be in the Senate after how many years, how many goes at trying to stand as a candidate so I'm very happy where I am," she said at the TODAY show (via 9News). "As far as the party, yes I have got a political party, yes I would like to see our party in government one day but it's going to take me years to get the foundations right, to stand candidates in every state, win state elections and let's go from there."
However, Crossbench senator Derryn Hinch does not think Hanson would make a good prime minister. "She's dedicated, she believes in what she's doing, but she will not form the opposition or government and that is the fact," Hinch said.
Meanwhile, she recently spoke about the blurprint she has outlined, including pre-nuptial agreements between newlyweds and certain changes to the tax system. "Family law is high on my agenda. It needs court-approved premarital agreements on finance and parental issues," she said, speaking with News Corp on Sunday.
On the other hand, support for the Coalition has reached an all-time low since Tony Abbott was replaced by Malcolm Turnbull as the Australia prime minister. According to Newspoll, the government was trailing Labor by a margin of eight percent – 46 percent to 54 percent – in two-party systems.
The primary vote for Coalition fell four points in the wake of Turnbull's phone call with US President Donald Trump. According to The Australian, two years ago, Coalition's primary vote had decreased by two points when Abbott presented a knighthood to Prince Philip. In September last year, when Turnbull was looking to take over the role of prime minister from Abbott, the Coalition's primary vote stood at 39 percent.
The survey also showed an increase in the support for independents, climbing from 15 percent to 19 percent. Meanwhile, ALP's primary vote remained the same – 36 percent – since early December.
MEET IBT NEWS FROM BELOW CHANNELS