'Mortal Kombat X' mobile 1.8 update introduces better rewards, new milestones and currency and new challenge characters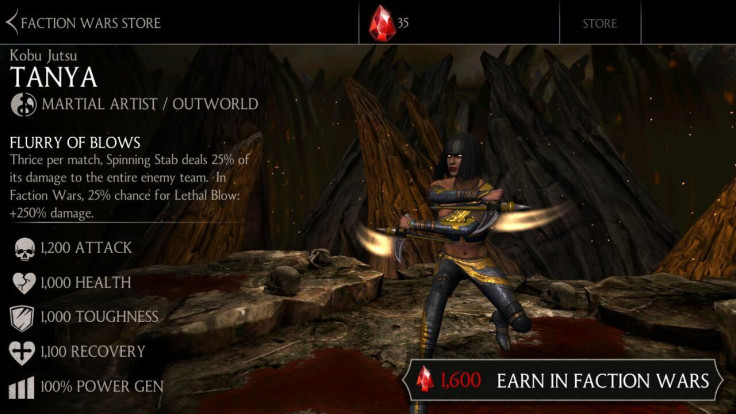 "Mortal Kombat X" on mobile is finally a year old. Some fans may have noticed that challenge characters have started to repeat for "Mortal Kombat X." However, instead of signaling a lull in the game's improvement, it appears that NetherRealm Studios was just hyping fans before the big drop.
For its first-year anniversary, "Mortal Kombat X" Update 1.8 dropped to the Android and iOS platforms. This brought some very interesting changes, particularly to the multiplayer segment of the game.
Over at the WB Games Community, the developer has detailed the changes in "Moral Kombat X" Android and iOS. The biggest change lies in the Faction Wars, as the mechanics for the multiplayer aspect has been revamped. Fans can now look forward to two seasons every week, which approximately last 3.5 days.
More reward drops can now be expected, as Season rewarded will be rewarded twice a week, while Faction rewards will still be delivered once a week. This means more chances to get some goods, instead of the old, maxed-fused Equipment cards.
A new milestone system has made the general interface of the Faction Wars a little more crowded. But it does make each fight interesting, as it grans more rewards every time the player achieves a particular level in the Battle Rating for every season. Rewards are given once the level is reached.
"Mortal Kombat X" 18 Update now introduces a new currency in the form of Blood Rubies. Blood Rubies will now be used to get some cool Kards over at the Faction Wars store.
Players should now start saving up those Blood Rubies to get a hold of two new Gold characters. A new skin for Dark Emperor Liu Kang, and an entirely new character in the form of Kobu Jutsu Tanya are now available in the store. There are also some Equipment cards worth getting, including the Bloody Shokan Armor, the Bloody Voodoo Doll and the Bloody Tomahawk.
For "Mortal Kombat X" mobile players who are looking to get some new characters into their roster will be happy to know that there are five characters that are lined up following the "Mortal Kombat X" 1.8 Update. These include Marksman Kung Jin, Dark Lord Kotal Kahn, High Tech Jacqui Briggs, Klassic Kano and Kold War Scorpion. Still a shame that there are no technically new characters, but the inclusion of Tanya via the Faction Wars is a welcome reprieve for those who have been playing the game for a while.
In the meantime, Unstoppable Jason Voorhees is still available as a challenge for Android players. Those who missed him during his first previous run can still get him now, alongside the Hockey Mask Equipment, which complements Jason Voorhees' rather powerful passive.
Still, the "Mortal Kombat X" 1.8 Update for mobile gives players more reasons to start logging in every day—apart from the daily rewards. With the first anniversary now here, the developer has confirmed to give away some rewards, including the Fujin's Blessing support card and more Souls, which are the premium currency in "Mortal Kombat X" mobile.
MEET IBT NEWS FROM BELOW CHANNELS