Microplastics From Strawberries? Production Of Popular Fruit Contributes To Plastic Pollution, Researchers Find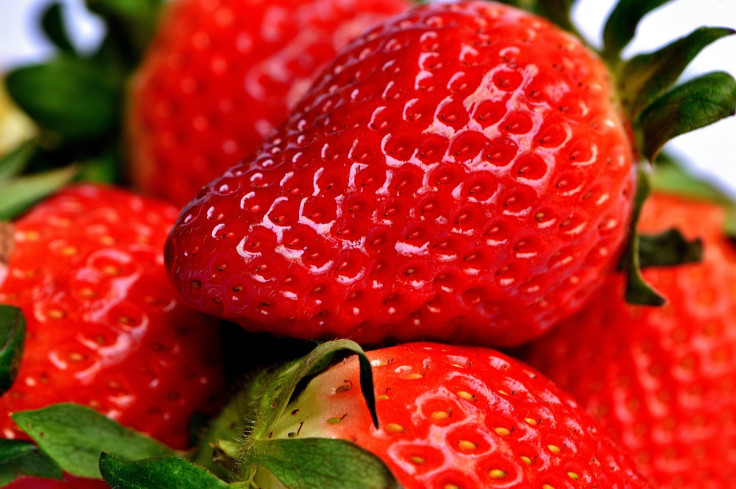 KEY POINTS
The use of plastic mulch has been increasing in the agricultural sector for its benefits
Researchers looked at the micro- and macroplastics in strawberry field soils
They found "up to 213,500 macroplastic particles per hectare"
A certain item widely used in strawberry production may be leading to long-term plastic pollution, researchers have found. This may have implications for the agriculture sector as a whole.
One may not think of plastic as a part of agriculture, but they the versatile items are actually "increasingly" being used in the industry, according to the release from the Goldschmidt Conference, which is being held in Lyon, France, from July 9 to 14.
Plastic mulch films, for instance, are placed around the base of plants in rows. They are touted to have benefits in crop production, from controlling weeds and insects to preventing the soil from splashing on the fruits.
These plastic films are removed after production. However, some tend to get left behind, and researchers noticed an accumulation of plastics in farm soils "even in really well-managed fields."
"Application of single-use plastic in the agriculture sector has increased tremendously, covering millions of acres of land worldwide," according to the presentation abstract. "U.S. farms are expected to generate nearly 860 million pounds of plastic waste annually, with single-use low-density polyethylene (LDPE) mulches used in row crops contributing a significant amount to total plastic waste."
For the study, which is set to be presented at the Conference on Monday, the researchers looked for both micro- and macroplastics in central California strawberry fields that used LDPE mulches. Macroplastics are the bigger pieces of plastics over 5 millimeters across, while microplastics are less than 5 millimeters. They conducted the survey after the mulches had been removed.
Interestingly, they found "up to 213,500 macroplastic particles per hectare," presenting author Ekta Tiwari of California Polytechnic State University said in the statement.
"What we are seeing (is) a huge quantity of macroplastic plastic material — particles bigger than 5mm across — being shed where the mulch is used to enhance strawberry production," Tiwari said. "These can remain in the soil for decades or longer."
So far, researchers are still analyzing the samples for microplastics — a pollutant that has since been found even in the human body, in plants, in the air and the remote places on the planet, and has yet to be fully understood.
The study shows how plastic mulches, which are being widely used, can be a "major source of plastic pollution" in agriculture, the authors said. The dominant polymer they found was polyethylene, which is among the "most widely produced plastics in the world."
As strawberry production only represents one side of agriculture that uses such plastic mulches, the implications of the findings could be far-reaching. As the researchers wrote, the study "provides baseline data to understand the extent of plastic pollution in the U.S. agriculture system."
So, while plastic mulches have proven to be quite important for agriculture, studies such as this shed light on the impacts they have on the environment.
Indeed, it may not be something that people consider, but the agriculture sector is also facing a plastic problem. Plastic films have various uses in agriculture, such as for greenhouses. In 2012, plastic mulch films were responsible for 40% of the plastic films used in agriculture.
In response to this plastic problem, some solutions have been suggested, such as the use of biodegradable plastic mulch. Plastic use in the industry is also being "increasingly regulated."
All in all, the researchers' work highlights the potential problem that may be arising from the use of plastic mulches, as beneficial as they may be to the industry. While they are valuable, it helps provide a larger picture of how plastic use in the industry may be leading to long-term problems.
And although the results on microplastics are still pending, it's worth noting that larger plastic pieces may also degrade into smaller and smaller pieces, thus potentially contributing to the microplastic pollution problem that we are still just learning about.
"We tend to think that strawberries are simply things to be enjoyed, but this shows that even something as delicious as fresh strawberries can come with a cost to the environment," Tiwari said in the Conference release. "We are working with the manufacturers to see if we can mitigate these costs."
© Copyright IBTimes 2023. All rights reserved.
MEET IBT NEWS FROM BELOW CHANNELS