Michael Bloomberg confirms he will not 'take risk' to run for US presidential race 2016; slams Trump, Cruz in same piece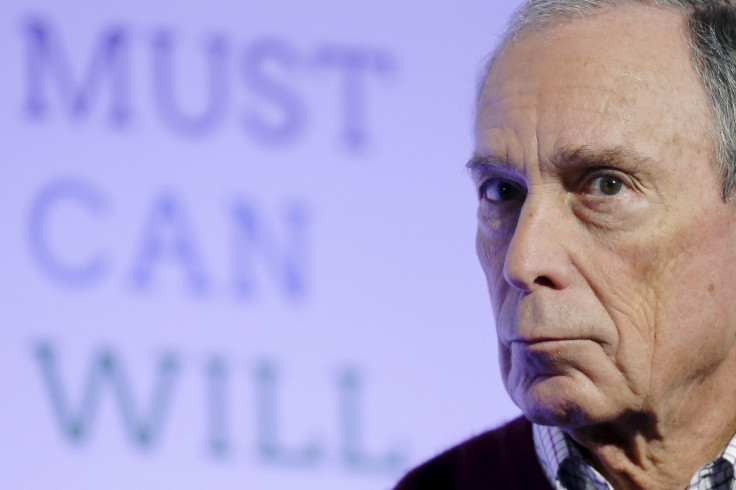 Former Mayor of New York Michael Bloomberg has announced he will not be entering the 2016 US Presidential Race, saying the data shows he "could not win".
Noting in a column titled "The Risk I Will Not Take" that he was drawn to ending the "partisan war in Washington and making government work for the American people", Bloomberg said he had considered running for president as an independent.
However, Bloomberg admits he would not win the 270 Electoral College votes necessary to enter the White House even if he secures support from a number of diverse states.
Even if he did manage to make it a three-way race, the billionaire businessman goes on to point out that Congress members would end up voting along party lines:
"As the race stands now, with Republicans in charge of both Houses, there is a good chance that my candidacy could lead to the election of Donald Trump or Senator Ted Cruz.

"That is not a risk I can take in good conscience."
Bloomberg also uses the column to criticise Trump's campaign and promises, noting that the real estate magnate was preying on people's prejudices and fears to get ahead.
"Abraham Lincoln, the father of the Republican Party, appealed to our 'better angels.' Trump appeals to our worst impulses," he said, adding that Trump's policies would embolden enemies, threaten the security of America's allies, and put its own people at risk.
Ted Cruz didn't escape from Bloomberg's scrutiny either, with the latter blasting the former's refusal to oppose banning foreigners based on their religion as "no less divisive" than Trump's campaign.
"We cannot 'make America great again' by turning our backs on the values that made us the world's greatest nation in the first place. I love our country too much to play a role in electing a candidate who would weaken our unity and darken our future -- and so I will not enter the race for president of the United States."
Bloomberg ends by saying he is not ready to endorse any candidate.
Ted Cruz vs Donald Trump
Despite Bloomberg's scathing criticism of Trump, the former "The Apprentice" boss remains a frontrunner for the Republicans nomination, with polling expecting him to win GOP contests in Michigan, Mississippi and Idaho. His Super Tuesday landslide victory had seemed to cement his position as frontrunner, but political pundits are now saying Senator Ted Cruz could be gaining significant ground on his opponent.
Fox News notes that while Trump does better in open primaries where members of either party may vote, Cruz outperforms him in contests that are limited to registered Republicans. This could solidify Cruz's claims that he is the more consistent conservative in the race, although it also means Trump has a wider 'populist' public appeal -- an element that will put him ahead in a general election, if he gets to it.
Republican strategist Ford O'Connell also told The Hill that Trump was "hitting a little bit of a speed bump," especially fresh off the back of weekend losses to Cruz. If Cruz's momentum continues in Florida and Ohio, Trump could be in serious trouble.
The anti-Trump ads by the Republican side, as well as the rising number of Republicans throwing their support behind Cruz just to prevent Trump from taking home the race, may also slow down the candidate's drive to a nomination. As South Carolina Senator Lindsey Graham said following Trump's Super Tuesday wins:
"We may be in a position where we have to rally around Ted Cruz as the only way to stop Donald Trump,"
RELATED: Donald Trump steps closer to White House after billionaire attack ads dropped
The US 2016 Presidential Election date is set for Tuesday, November 8.
MEET IBT NEWS FROM BELOW CHANNELS