Justin Theroux 'f--- Brad Pitt" post on Instagram blasts Jennifer Aniston's ex-husband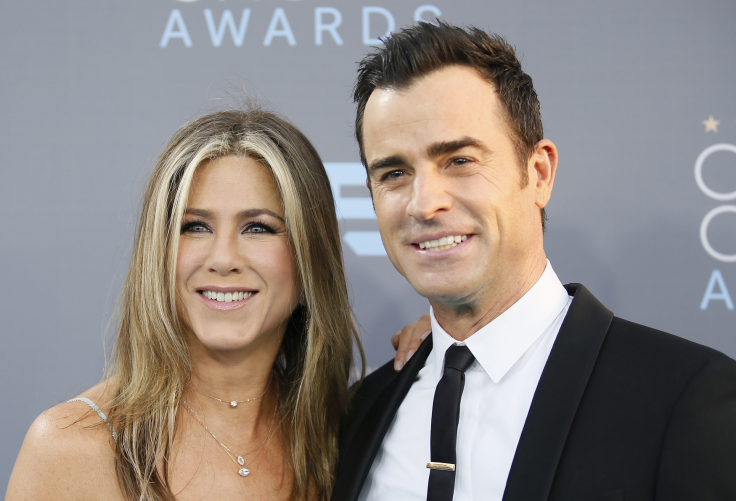 "The Leftovers" actor Justin Theroux shared on his Instagram a picture of artist Nick Flatt's "F--- Stuff" mural in Berlin on Sunday, and in the process unintentionally shading Brad Pitt. Photographer Ryan Darcey used the mural as a background for model Zoey Stafford while she was biting down on her middle finger.
The mural had a list of people and things that angered Flatt, including Facebook, politics, racism, cocaine, steroids and pickles. Theroux shared the picture using captions including "#currentelectionmood #berlin #graffiti #f-------nickflatt."
However, Theroux apparently missed Pitt as one of Flatt's f--- list.
Some people believed that Theroux was throwing shade at his wife's ex-husband, leading some of his followers to comment about his Instagram post.
"F--- Brad Pitt: My thoughts exactly," one person commented.
"haha nice Justin! Shade Thrown! Ok!" another person commented on his graffiti photo.
The Sun copied the comments that Theroux deleted.
Theroux denied that he was throwing shade at anyone and explained it through a long hashtag on his photo. "#andNOthispostisNOT'shading'anyonebecauseimnotelevenyearsoldimeanseriously," he wrote as an Instagram caption. He also added #okaymaybepickles right after it.
On Sep. 26, Theroux was asked about Pitt and Angelina Jolie's divorce but he kept quiet on the issue. He just expressed his sympathy for the estranged couple's children. "As a child of divorce, all I can say is that's terrible news for those children, and that's all you can really say. It's boring to sort of comment on anything else. People are having a bad time — that's horrible." Theroux told the Business Insider.
"There's an endless appetite for trash, apparently, though everyone would say that they don't have that appetite," Theroux said. "But I think a lot of people do because people buy it. But there are bigger things to b---- about. It's shocking how much bandwidth things can take up when there are far more important things going on in the world," Theroux said.
Aniston and Pitt were one of the hottest celebrity couples from 2000 to 2005. In September 2004, their relationship began to garner divorce rumours. On January 7, 2005, Aniston announced the separation.
After Aniston filed a divorce, Pitt and Jolie were seen together with increasing frequency. On Jan. 11, 2006, Jolie confirmed her pregnancy with Pitt's child. The couple tied the knot on Aug. 23, 2014, but Jolie filed for divorce from Pitt on Sep. 19. 2016.
Theroux started dating Aniston in 2011 and they got married on Aug. 5, 2015.
MEET IBT NEWS FROM BELOW CHANNELS