Joanna Jedrzejczyk Is The Next Dominant Women's Champ: Ronda Rousey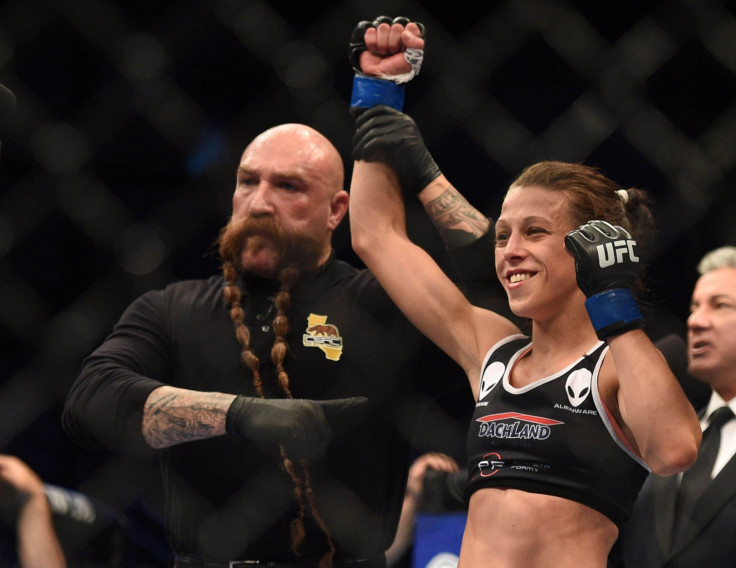 Ronda Rousey, the UFC women's bantamweight champion, has been on the top of the sport for so long that being flanked by a new women's champion is unfamiliar territory for her. The 28-year-old judoka recently met straw weight queen Joanna Jedrzejczyk and the No. 1 pound-for-pound women's fighter only had kind words for the rising star.
"It is so cool to see women's MMA really taking over. I really think she is going to be the next dominant champion that's on top for a very long time. It was an honor to meet her. I haven't been so captivated by a fighter in a while," Rousey said during her latest interview with Ariel Helwani of the show, "The MMA Hour."
The 27-year-old Jedrzejczyk captured the world and eventually Rousey's attention by capturing the straw weight belt over the highly touted Carla Esparza at UFC 185. She followed up the upset with a dominant title defence opposite Jessica Penne in Germany. Penne was so bloodied and bruised that many observed that the referee should have stepped in earlier, not letting the bout to last until the third round.
The Polish champion's rise in the ranks was so unexpected after the UFC tagged Esparza and Rose Namajunas as the next big women talents in the mixed martial arts world. Jedrzejczyk recently admitted that she is actually following the footsteps of Rousey and is not being content with being the best in her class. Her Muay Thai discipline gives her a strong edge on the stand up game but she revealed that she is working on improving her wrestling and takedown skills. Upon her transition to the mixed martial arts scene, Jedrzejczyk went under the training roof of renowned mentors such as Pawel Derlacz, Szymon Bonkowski and Robert Drysdale.
Rousey and the first female European champion Jedrzejczyk also share similar upbringings, with both women having been exposed to athletics in their developmental years. The leader of the 'Four Horsewomen" Rousey is a judo varsity team member and competed in inter-school competitions while the Polish champion excelled in team sports such as volleyball before transitioning to kickboxing in 2009.
MEET IBT NEWS FROM BELOW CHANNELS