'Jane The Virgin' Season 2, episode 8 recap: Jane and Rafael clash over Mateo's first Christmas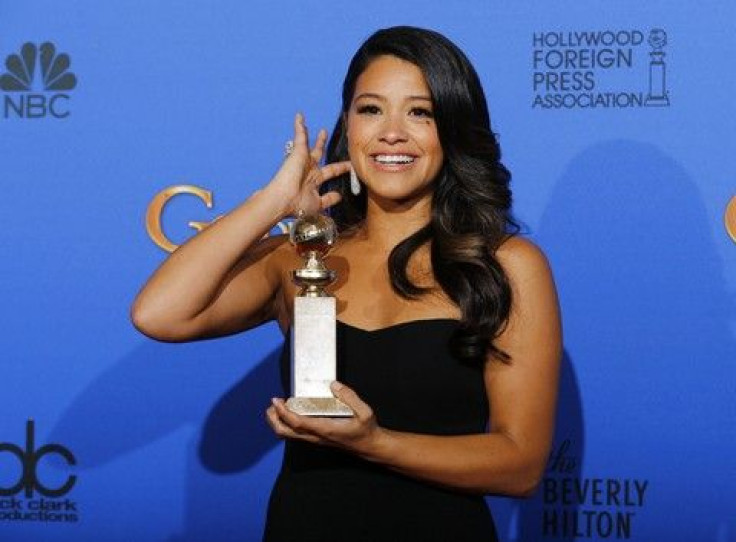 In the mid-season finale of "Jane The Virgin," it's Christmastime, and Jane Villanueva (Gina Rodriguez) needs to learn to calm down if she wants a stress-free holiday for her child. The cause of her stress is her ongoing feud with Rafael Solano (Justin Baldoni) and her struggle to pay for grad school tuition.
Episode 8 picks up right where the previous episode left off. Rafael and Jane are in the middle of a big fight after Jane found out that Rafael had gotten Michael (Brett Dier) fired. They continue to bicker to the point where Rafael threatens to fight Jane for custody over Mateo on Christmas Day.
Jane gets desperate and even considers using information gathered by her devious classmate, Wesley Masters (Brian Jordan Alvarez), to dig up dirt on Rafael. This backfires when she is unable to find anything. Her last option is to go to couples therapy, which is suggested to them by a random woman who saw them fighting at the mall.
Apart from her issues with Rafael, Jane also learns that her second semester tuition has not yet been paid. The scholarship that she thought she got was actually from a made up foundation by her father, Rogelio dela Vega (Jaime Camil). He fooled Jane by mixing up the letters in his name and calling the foundation "Elodea Gale Vigor."
Jane knows that she can't continue to get help from Rogelio, now that he's struggling with his finances. He went almost broke when his telenovela project fell through. While he's trying to find his next project, he needs to live on a tight budget.
Jane's adviser helps her out by suggesting a short story writing contest. He guides Jane and tells her that the prize money could help her in getting her tuition fee situation sorted out. He also gets Wesley kicked out of school (for writing an expose on the Solano Family) so that Jane could take over his job as a faculty assistant.
Meanwhile, Rogelio is struggling with his new budget. He's also struggling with trust issues with his new intern, JD Guzman. After he was completely backstabbed by his last assistant, Rogelio is concerned that JD could also double cross him.
Rogelio is also suffering from separation anxiety from Michael. The two of them used to be very close, but since he and Michael had a falling out, Rogelio is now unable to bond with Michael. The detective himself is trying his best to stay away from Jane and her family, both to keep them safe and to help himself move forward.
Meanwhile, Michael is very deep into his investigation of Sin Rostro and a woman named Mutter. He has reason to believe that Luisa Alver's (Yara Martinez) mother, Mia, is not actually dead. He thinks that she went into hiding as the drug lord known only as Mutter.
Luisa reinforces Michael's theory when she shows up at the police station bearing the same speculations. They manage to dig up a story of a woman who washed ashore several miles from where Luisa's mom supposedly jumped off a bridge. That woman claimed to have lost her memory and ended up in a mental institution.
Luisa, Michael and Michael's partner Susanna all go to see the woman in the mental institution. When they get there, they are all devastated to learn that the woman bearing Mia's name is someone else. They realise that Mia switched identities with a non-verbal patient and escaped.
While Michael and Luisa are back on square one in the search for Mia Solano, things are progressing quickly elsewhere. Jane and Rafael finally have a breakthrough, thanks to the therapist. Jane starts to understand and forgive Rafael after she tries to see things in his perspective. They agree to celebrate Christmas together with Mateo instead of fighting for custody.
In other good news, Rogelio finally finds his passion project when his assistant JD turns out to be a great scriptwriter. Alba (Ivonne Coll) also sees her dreams come true, when she finally receives her green card.
Meanwhile, while everyone else is in a festive mood, Petra (Yael Grobglas) is the complete opposite. She is completely stressed out after helping her mother bury the body of Ivan (Christopher Corbin). She is forced to tell Rafael everything when the doctor tells her that she is getting elevated blood pressure due to stress. Rafael forces her to speak up because he's concerned about his babies that she's carrying.
She tells Rafael about Ivan's hostage drama, her forced marriage with Milos (Max Bird-Ridnell) and how her mom ended up killing Ivan. She doesn't stop there and also confesses how she covered up for her mom, Magda (Priscilla Barnes), when she pushed Jane's grandmother down the stairs. The two of them also threw Milos' grenades into the river.
Rafael is shocked but he says that he finally understands Petra (Yael Grobglas). He vows to help her get her mother out of her life so that she could move forward. Unfortunately, Magda beats them to the punch. She goes to the police and gets Petra arrested. She makes her daughter take the fall for her crimes.
"Jane The Virgin" Season 2 returns on Monday, Jan. 25, 2016 at 9 pm ET on The CW.
Contact the writer at feedback@ibtimes.com.au or leave a comment below.
MEET IBT NEWS FROM BELOW CHANNELS