How Queen Elizabeth shielded Princes William and Harry from finding out about their mum Princess Diana's death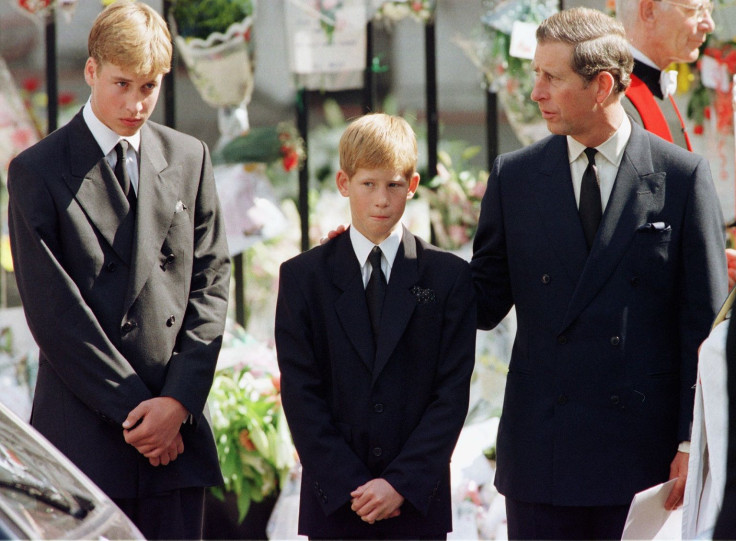 Queen Elizabeth II ordered all televisions and radios in her Balmoral residence to be removed after Princess Diana's sudden death in 1997. The British royal wanted to protect her grandsons Prince William and Prince Harry from finding out about their mother's death, according to a new documentary.
The UK Channel 5's "Diana: 7 Days that Shook the Windsors" reveals how the Queen's palaces reacted after her death on Aug. 31, 1997. The Buckingham Palace only had a week to organise a funeral for the People's Princess on Sep. 6.
William and Harry, who were just 15 and 12 at that time, were at the Queen's Balmoral Castle in Scotland. Rather than being woken and told the devastating news, they were allowed to sleep in. According to the documentary (via the Sun), the Royal family also banned any mention of Diana from the church service at Balmoral on that day. The Queen apparently ordered all TVs and radios in the residence to be moved or hidden so that the young princes would not hear the disturbing details of their mother's death.
A committee – including people from Kensington, Buckingham and St James' Palaces, as well as representatives from Number 10 (the headquarters of the Government of the United Kingdom), the police and Diana's family – was set up to organise her funeral. When Prince Charles, her ex-husband and William and Harry's father, flew to Paris to retrieve Diana's body, Harry reportedly begged to go with him. However, the young prince was told to stay at home instead.
On the day of the funeral, William and Harry walked behind their mother's coffin alongside their father Charles, their grandfather the Duke of Edinburgh, Prince Philip, and their maternal uncle, the Earl Spencer. Diana's sons were initially reluctant to do so. However, they changed their mind at the eleventh hour.
"I can remember and it sends a tingle up my back thinking about it," Anju Hunter, who was then-Prime Minister Tony Blair's adviser, said. "We were talking and then, from the speakerphone on the table, came Prince Philip's voice, and it was anguished: 'These are boys here, we are talking about these boys, they have lost their mum.' It brought it all home to us."
How Princes William and Harry are coping with Diana's death
In the recent years, William and Harry have come to talk more openly about their grief following Diana's passing. Harry admitted in an interview with the Daily Telegraph last month that losing his mum at such a young age forced him to shut down all his emotions for the next two decades.
"My way of dealing with it was sticking my head in the sand, refusing to even think about my mm because why would that help? (I thought) it's only going to make you sad, it's not going to bring her back," he said. However, he admitted that suppressing his feeling affected not only his personal life, but his work engagements as well. And so he realised that he had to come to terms with what happened so he could move on.
In a just-released interview with GQ magazine, William said the fact that his wife, Kate Middleton, and his children, Prince George and Princess Charlotte, didn't get to know his mother was sad. "I would like to have had her advice," he told the magazine. "I would love her to have met Catherine and to have seen the children grow up. I makes me sad that she won't, that they will never know her."
The brothers, together with Kate, launched the Heads Together campaign, They admitted that the tragedy brought them closer together.
In case you missed it, last week the Duke & Duchess of Cambridge & Prince Harry told us it's #oktosay by talking about their mental health pic.twitter.com/rJFaHRpVEo

— Heads Together (@heads_together) May 2, 2017
MEET IBT NEWS FROM BELOW CHANNELS