'GTA Online' offers new week-long 50% Warstock discount, Double GTA$ & more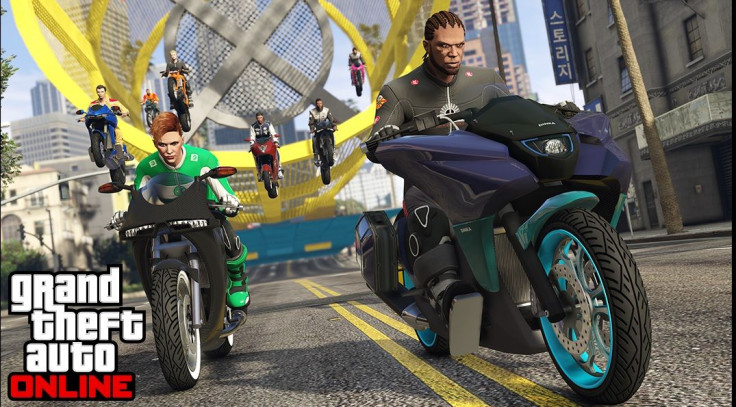 It's time to get back to "GTA Online," especially for players who may want a sweet Rhino Tank and more war stocks.
Rockstar Games has confirmed via the Rockstar Newswire a new discount and Double GTA$ event for the entire week until Sept. 22. Dubbed as the "GTA Online" bonuses, the new event will see all Warstock and Cache & Carry at half price off. This means getting the like of aa Rhino Tank, Off Road vehicles, helicopters and other vehicles for less.
There will also be a Double GTA$ and RP event for all parachute jumps and Drop Zone modes.
"Whether you're maneuvering through checkpoints in traditional Parachuting Jumps or holding your ground in Drop Zone, free fall your way straight to the bank with Double GTA$ and RP in all variations of these two modes this week. If you want to jump straight into action, there's a custom Double GTA$ & RP Playlist featuring both modes, which includes Parachuting: A Ridge Too Far, Drop Zone I, Parachuting High Overheads and Drop Zone IV."
Some more discounts worth splurging over include Merryweather Security Services. Those who need help from paramilitary experts can get 50 percent off on all services. These include Ammo Drops, Boat and Helicoter Pickups, as well as calls to Mercenaries.
Ammunation and the Armoured Kuruma are also enjoying 25 percent off discount. The Karin Armoured Kuruma is teh fast and tough getaway car that one can get at the Southern San Andreas Super Autos. Ammunation also features Body Armour, Assault Rifle, and other gears, weapons and throwables at a good price.
Capping off the week is the Premium Stunt Race: Threading the Needle in motorcycles. "GTA Online" players will get to race on motorcycles in a track spanning over three miles. Granted the new discounted vehicles offered can't be used in this race, but it's a good mode to put motorcycles to the test.
The payouts are worth the challenge, as the top three finishers will get some good GTA$ dough, while everyone else who enters the race will get Triple RP. To join the Premium Stunt Race, players should check out the yellow Premium Race Blip in Legion Square. It can also be accessed via the Quick Job App.
MEET IBT NEWS FROM BELOW CHANNELS