'Game of Thrones' season 7: Closer look at Daenerys and Cersei costumes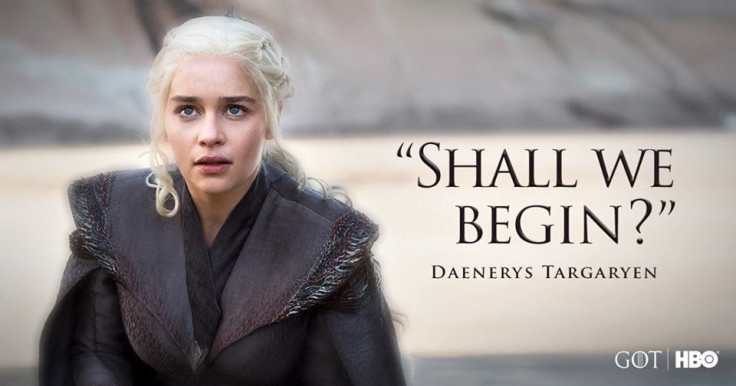 In "Game of Thrones" season 7, both Daenerys Targaryen (Emilia Clarke) and Cersei Lannister (Lena Headey) are queens. However, the costumes of both characters didn't include a crown. In a recent interview, costume designer Michele Clapton shared her insights about how she made sure Dany's clothes portrayed authority.
In an interview posted on Making Game of Thrones, Clapton said she kept the trousers and boots of Daenerys to maintain the trademark for the Mother of Dragons. As far as the colours are concerned, she decided to start using charcoal and red, the colours of the Targaryen sigil.
Although Daenerys calls herself a queen, there's no crown in her costume yet. Clapton decided to give the character something that signified authority. This led to Dany wearing a heavy chain with a three-headed dragon symbol at the end.
The interview includes a few images of the costume, giving fans a closer look at the design. There are two main costumes that Dany wore on the show this year; both of them had the Targaryen chain to display her authority.
For Cersei's costume, Clapton said it was "quite extravagant." There were a lot of spikes incorporated into her costume, and the colour chosen was mostly black. The costume intends to show the kind of person Cersei is.
"Something about the slashing and the twisting told you a lot about her character, a contradiction of the costume from the front. It's almost like a sting in the tail, something on edge as you see her walk away: there's something really disturbing about this woman," Clapton said.
"Game of Thrones" season 8 will be the last for the show, with only six episodes. It will be interesting to see what new costumes Clapton will design for the final chapter of the TV show.
MEET IBT NEWS FROM BELOW CHANNELS