'Game of Thrones' Season 6 spoilers: Pictures show key events across the realm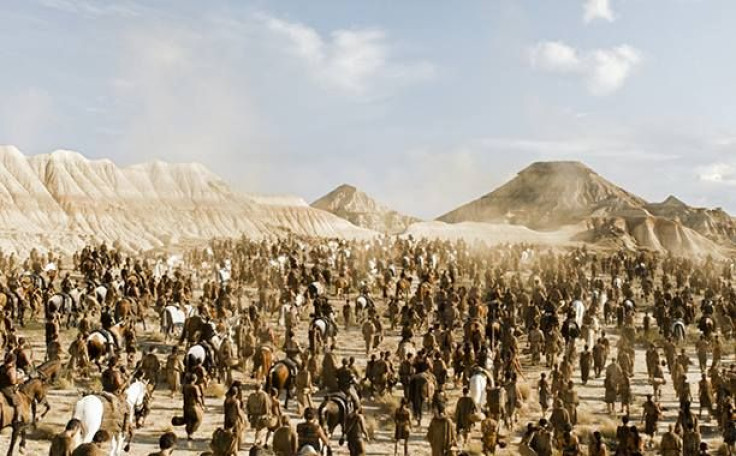 Pictures from the finale episode of "Game of Thrones" Season 6 titled "Winds of Winter" have been released online. The pictures tease some of the key events that take place across the realm.
[Spoiler alert]
After a major focus on the battles in the north and in Meereen, the TV series will return to the storyline of all the other characters in episode 10. The pictures posted on The Telegraph begin with Davos (Liam Cunnigham), who is filled with rage after he found out what Melisandre (Carice Van Houten) did to Shireen (Kerry Ingram).
The trailer of the finale episode reveals that Davos will confront Melisandre in front of Jon Snow (Kit Harington).
Meanwhile, Jaime Lannister (Nikolaj Coster-Waldau) and Bronn (Jerome Flynn) will lead their army to meet with the Freys. The trailer shows Walder Frey (David Bradley) raising a toast to their victory, using words similar to that of Roose Bolton's (Michael McElhatton), before he betrayed the Starks.
One of the biggest events in episode 10 of "Game of Thrones" Season 6 will take place in King's Landing. The trial of Loras Tyrell (Finn Jones) and Cersei (Lena Headey) will be featured in the finale episode.
Another flashback scene is expected to be featured in the next episode. A picture of Bran (Isaac Hempstead Wright) has been teased online. Fans have been hoping to see what exactly happened on that fateful day when the young Ned Stark (Robert Aramayo) entered the Tower of Joy. Many expect this scene to reveal the true parentage of Jon Snow.
Back in Meereen, Daenerys (Emilia Clarke) and Tyrion (Peter Dinklage) ponder about the future. The finale episode of "Game of Thrones" Season 6 is expected to be one in which the Mother of Dragons leads her troops to Westeros. The pictures, however, do not show Arya Stark (Maisie Williams).
Credit: YouTube/ GameofThrones
MEET IBT NEWS FROM BELOW CHANNELS