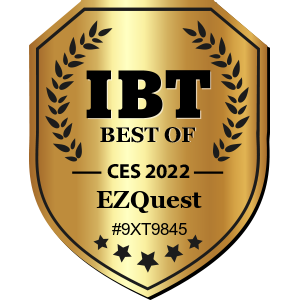 As the world progresses, many people have moved on from slower USB-A ports to faster and more versatile USB-C hubs. EZQuest, the company, known for developing the highest-quality accessories for the PC and mobile consumer electronics markets, introduces its latest EZQuest USB-C Gen 2 Hub Adapter with 7 Ports at the CES 2022.
There are a lot of factors consumers should consider when picking the best USB-C hub, the majority of which are more practical than technical. For instance, when one wants to get the best value for their money, they should be willing to pay a little for something like added features.
It is also important for consumers to avoid choosing a hub that directly attaches to the port instead of using a cord since it can block other ports. Additionally, the length of the cord should be a factor since longer cords allow easier hub placement.


Photo: Official EZQ website


Another factor one must take into account while selecting the USB-C hub is its ability to read and speed transfer data. The hub's functionality and utility are also crucial qualities one should check out to get more value for their money.
Speed, utility and functionality
The EZQuest USB-C features seven powerful ports. Three of these are second-generation USB-C 10 Gbs ports, another three are USB 3.0 5 Gbs ports and a port called USB-C Power Delivery 3.0 with Fast Role Swap technology that facilitates 5 Gbs data and pass-thru charging for up to 100 Watts.
The EZQuest USB-C Gen 2 Hub Adapter with 7 Ports features Power Delivery 3.0 and Fast Role Swap to ensure the fastest and safest charging. However, for the hub to be able to deliver full-speed charging, users must make sure the power adapter is at least 45W or 15V since adapters less than 45W will not supply adequate power to offer pass-thru charging.


Photo: Official EZQ website


Any of the four USB-C second-generation ports or the three USB 3.0 can be used to connect devices like external hard drives, cameras and flash drives, to name a few. These can also be utilized for charging and syncing mobile devices such as tablets and smartphones.
Compatibility and smart features
The EZQuest USB-C Gen 2 Hub Adapter with 7 Ports is compatible with a long list of devices. It works for all Apple products with USB-C ports, as well as with other computers that feature the same port. It is also compatible with mobile devices' On-The-Go support.
The EZQuest USB-C Gen 2 Hub Adapter with 7 Ports has an extended 9-inch nylon braided cable. This allows the hub to lay flat on the surface being connected to devices such as MacBook, PC, iMac, tablet, iPad Pro and smartphones, among others.


Photo: Official EZQ website


The use of nylon braided cable instead of the regular or standard cable found in traditional hubs is a smart choice for EZQuest. The material is structurally more stable than plastic. 
Nylon braiding is where strands of nylon are intertwined to create additional, stronger strands or cables. Nylon when used in this creation process is structurally more stable than alternative plastic counterparts, less susceptible to fray and less likely to become tangled.
The EZQuest USB-C Gen 2 Hub Adapter with 7 ports retails for $69.99. It is available on the company's official website and other popular physical and online stores.
Technical Specs:
Input: USB-C / USB Type-C
3X USB-C Gen-2 10Gbs Ports
USB-C 5V/3A for charging if PD is connected if not 5V/1A
1X 100 Watts USB-C with Power Delivery 3.0/5Gbs Data
3X USB 3.0 5Gbs Ports
USB-A 5V/0.9A for charging
15-18 Watts shared total charging 
Thunderbolt 3/4 Compatible
Cable Length: 220 mm
Cable Color and Material: Black Nylon Braided
Dimension: L 222mm X W 40mm X H 13mm
Power: To support full-speed charging for iPad Pro or other mobile devices
One (1) year limited warranty
Final verdict
The EZQuest USB-C Gen 2 Hub Adapter with 7 ports is made by a company that utilizes the latest technology available and ensures its products are engineered for durability aside from their stylish and contemporary design. The latest USB-C hub stands out because of its ability to provide speed, offer compatibility and its smart and practical features.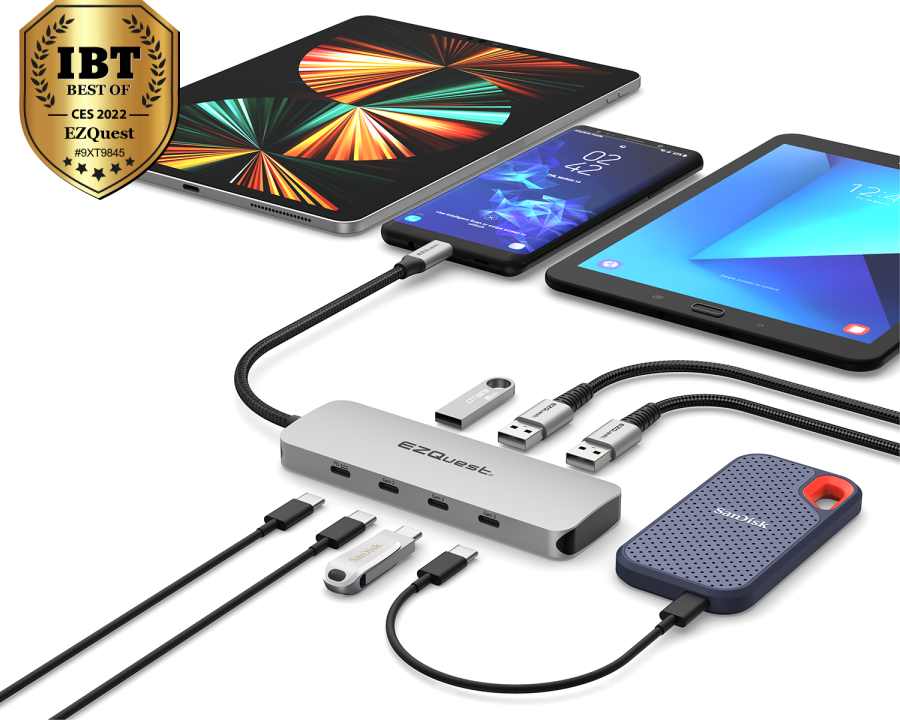 Its features, usability, build and design are the major reasons why we believe the EZQuest USB-C Gen 2 Hub Adapter with 7 ports deserves our Best of CES 2022 award.