ESA Bids Farewell To Its 'Workhorse' As Ariane 5 Rocket Blasts Off For Its Final Mission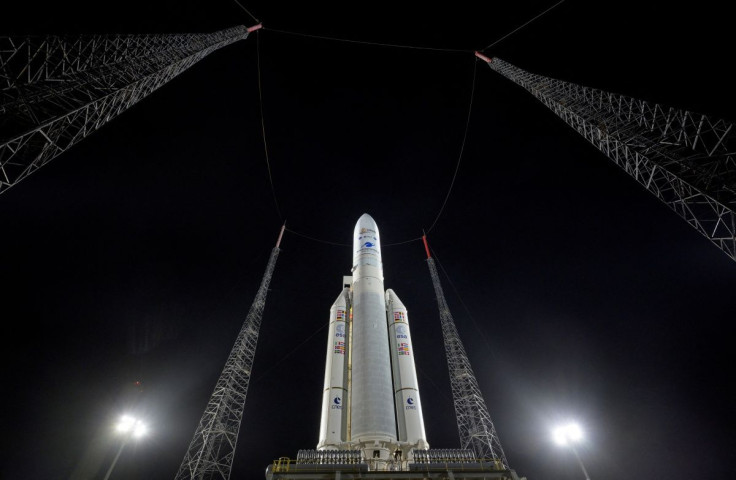 KEY POINTS
Ariane 5 carried payloads for Germany and France on its final mission
It had a great career that saw it carrying payloads like the James Webb Space Telescope
Its successor, Ariane 6, is gearing up for a possible launch in 2024
The Ariane 5 rocket has bid farewell after the success of its final mission this week. The stage is now set for the next generation in the series — the Ariane 6.
Ariane 5 blasted off on its final mission from Europe's Spaceport in French Guiana at 10:00 p.m. UTC (6:00 p.m. EDT) on Wednesday. Just like its previous missions, the final flight carried valuable cargo, including the German Aerospace Center's (DLR) experimental communications satellite, Heinrich-Hertz (H2SAT) and the French communications satellite, Syracuse 4b.
The final mission lasted for just 33 minutes from the lift-off to the release of the payload, according to the European Space Agency (ESA). Arianespace, which operates Ariane 5 for the agency, confirmed the separation of the Heinrich-Hertz satellite and the Syracuse 4B, the latter of which goes down in space history as the "last ever passenger" to separate from the Ariane 5.
The ESA shared a rather poignant clip of the final launch of its "workhorse."
"Ariane 5 is now taking its place in the annals of global space history," Martin Sion, the CEO of ArianeGroup, said in a statement. "I share the emotion of all the employees at ArianeGroup, Arianespace, the French and European space agencies CNES and ESA, and all our European partners, who have contributed to its success over the course of these 27 years."
"This 117th and last Ariane 5 mission is emblematic in several respects," Stéphane Israël, the CEO of Arianespace, said, noting how the final flight for Germany and France seems fitting as they were the "first two contributors to the Ariane program."
"This mission is also emblematic of Ariane 5's ability to perform dual launches, which constitutes the very core of its success, with 197 satellites placed in geostationary orbit out of a total of 239 satellites deployed," Israël added.
Ariane 5 had an illustrious career that saw it carrying some notable payloads, from the Galileo navigation satellites, the Rosetta cometary probe, the ESA-JAXA BepiColombo mission to Mercury and even the James Webb Space Telescope. Its penultimate launch was back in April with the ESA's JUICE mission, which will explore Jupiter and its icy moons.
Now that Ariane 5 is retired, Ariane 6 will take over as the "newest launch vehicle" in the Ariane series. It is said to be "capable of a wide range of missions," the ESA said. The rocket will be available in two versions depending on the need, being able to carry both light and heavy payloads.
With the success of Ariane 5 until its final mission, Ariane 6 is taking the reins of its predecessor, possibly for many years to come. After all the delays its experienced, Ariane 6's first flight is expected to happen some time in 2024.
"Ariane 5's success heralds a promising career for Ariane 6," Israël said.
© Copyright IBTimes 2023. All rights reserved.
MEET IBT NEWS FROM BELOW CHANNELS