Donald Trump's face now tops Google Images search for 'idiot'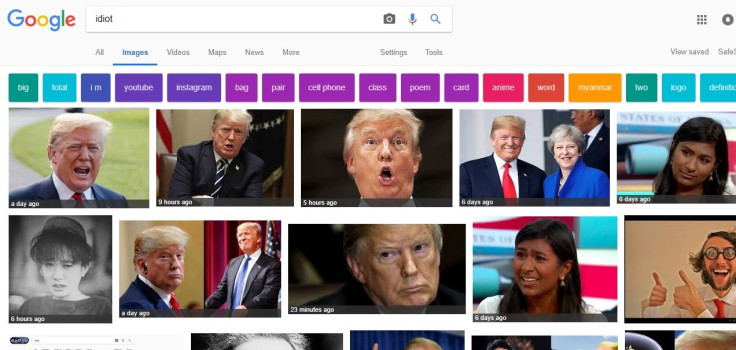 A Google Images search for the word "idiot" now displays Donald Trump's photos on the first page. The US president is the first returned result partly due to a concerted effort to associate him with that word.
Internet users have sought to influence Google's algorithm by making Trump the first image results when the word "idiot" typed into the search engine. And as of Wednesday, they have succeeded.
According to the Guardian, this came about when the Green Day song "American Idiot" was used by protestors as the anthem for their demonstrations during Trump's UK visit earlier this month. But apart from that, there has also been a campaign to capitalise on Trump's association with "idiot."
They have manipulated the search engine result by linking the word to Trump's pictures. This was done mostly through the public forum site Reddit, with people upvoting a post containing a photo of him and the word "idiot."
It may not be fair to the US leader, but it's unlikely Google would intervene with the results. As the publication notes, the Web giant refused to intervene in 2004 when a search for the term "Jew" returned a hook-nosed caricature. Google did not delete the image but instead took out ads next to it explaining why anti-Semitic imagery appeared high up the results.
"A site's ranking in Google's search results relies heavily on computer algorithms using thousands of factors to calculate a page's relevance to a given query," it explained then. "Sometimes subtleties of language cause anomalies to appear that cannot be predicted."
Google also refused to intervene with its algorithm when searches for "Michelle Obama" in 2009 returned a picture of the former first lady's face retouched to have ape-like features. As it had done before, it instead decided to raise awareness alongside the result.
MEET IBT NEWS FROM BELOW CHANNELS